Welcome to the Autumn edition of Ultra's Market Report!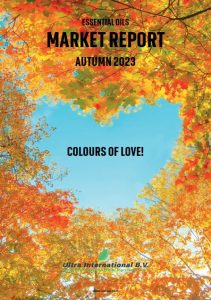 Browse and discover all the latest on over 70 key essential oils from more than 15 growing regions around the world. In addition, our download version is packed full of additional articles including: What's Trending this Season in The World of Fragrances?; A Few Drops of Goodness in Your Drink & Ultra Natura Growing Upwards and Onwards.
Digital version available. Click to DOWNLOAD and save it as your favourite pdf so you have everything you need to know offline and on the go!!