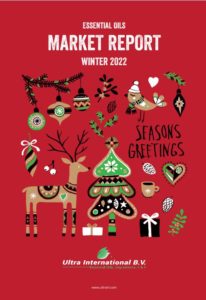 Welcome to the Winter edition of Ultra's Market Report!
Browse and discover all the latest on over 100 key essential oils from more than 20 growing regions around the world. In addition, our download version is packed full of additional articles including: IFEAT Conferences are Back on the Road! Vancouver, Canada 2022 ; Let the Fun begin Exquisite Spirit Infusions ; Palanquin of Perfumery Voyaging India's Fragrance Trail.
Digital version available. Click to
DOWNLOAD
and save it as your favourite pdf so you have everything you need to know offline and on the go!!