Welcome to the Summer edition of Ultra's Market Report!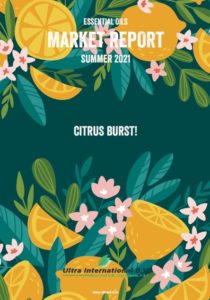 Browse and discover all the latest on over 100 key essential oils from 20 growing regions around the world. In addition, our download version is packed full of additional articles including: Australia's Drive for a Sustainable Lavender Industry, Sniffing out Citrus Pest, The Scent Of Hope: Using Essential Oils To Treat Dementia an Interview with Maria Morati, Vanilla News From Around The World, Kudos to Functional Food and Beverages Company Update.
Digital version available. Click to DOWNLOAD and save it as your favourite pdf so you have everything you need to know offline and on the go!! 
Want to print this report page by page? Then click the PRINT button in the top left corner!