SPRING TO LIFE! 
Welcome to the Spring edition of Ultra's Market Report!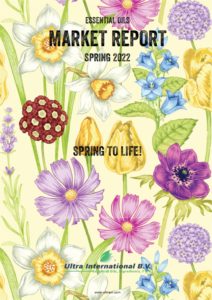 Browse and discover all the latest essential oils from growing regions around the world. In addition, our download version is packed full of additional articles including a detailed analysis about the ongoing Supply chain disruptions, Futuristic Fragrance Feels, an insight of Vertical Farming and some interesting facts on Cordia Verbenacea-a Medicinal Herb. 
Digital version available. Click to DOWNLOAD and save it to your favourite pdf so you have everything you need to know offline and on the go!! 
Want to print this report page by page? Then click the PRINT button in the top left corner!