Golden Grove Naturals- The Australian Study Tour Report
October 15, 2019
ON THE SCENT OF AUSSIE TREASURES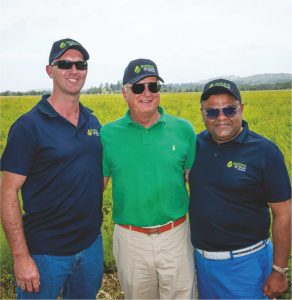 Work close to nature is most enthralling and stimulating. In years of experience, one's learning stands out; a study tour is everything but 'study.' With an emphasis on experiential learning and self-explorations, a study tour opens up opportunities to closely observe cultures, practices, and people. And the study tour to Byron Bay, Australia did not disappoint. Guised in the garb of enriching, immersive experiences, the trip was instrumental in taking knowledge enhancement to unprecedented levels. The seven-day trip was an opportunity to explore exotic essential oils from a most sought-after origin, study sustainable practices, and gain insight into ground-breaking research. In addition, it brought the group up close and personal with the heart-warming indigenous culture of this island continent.
December 2, 2018 found participants unwinding with welcome drinks and canapés. In the distance loomed Cape Byron Light, a tall, majestic and active lighthouse. Byron Bay is a picturesque coastal town off the eastern coast of Australia's famed beach pilgrimage, the never-ending Gold Coast. A tempting vibe that is an eclectic mix of contradictions of arty splendour, performing arts hotspot, and a hedonistic surfer paradise. Add to it enticing rainforests, the call of windswept cliff s, winding creeks that beckon with pristine clarity, and of course, the ribbon of golden sand, all home to a spectacular biodiversity of species of one of the most successful naturals of Australia, tea tree. That just about encapsulates Byron Bay in a nutshell.
The essential oil industry of Australia goes way back to the 18th century when eucalyptus oil was first produced commercially. Since then commercial production has flourished; the botanicals thriving in Australia's diverse topography, temperate Mediterranean climate, and relative isolation from the rest of the world. Subsequently, governments working with industry bodies have commissioned research centres, implemented breeding programmes for high-grade seeds, and sanctioned compulsory research & development and emergency plant pest response levies to further buoy the nation's thriving essential oil industry.
Today, more than 90% of Australia's natural oils are exported. Needless to say, Australia was the natural choice for a study tour. And if there ever was a whole new way of seeing nature's little hideout of treasures, the group struck gold with the Gold Coast. Please enjoy this discovery of Byron Bay.
Warm regards
Golden Grove Naturals Team
Company and Farm Visits
A blend of visits, presentations, and authentic cultural experiences, the days through the tour were packed with a perfect balance of all that the coast had to offer.
OF SIGHTS, SOUNDS AND SCENTS OF GOLDEN GROVE NATURALS
On December 3, 2018 we embarked on the golden trail of essential oils. An exciting plethora of sights, sounds, and scents assailed our senses as we moved from the existing plantations to upcoming ones.
While the new plantations are dedicated to honey myrtle, and two new strains of tea tree, the forthcoming ones will grow further manuka, kunzea, rosalina and lemon-scented tea tree oil. We were taken through the in-house seedling nursery, followed by a tractor ride through the field plantations, harvesting, distillation processing to the finished stock warehousing, and the quality control laboratory.
There was also an insightful presentation by Dorene Petersen, founder of the American College of Healthcare Science.
The interactions with the field staff undertaking the establishment of tea tree seedling planting, along with using a tractor-drawn mechanical planter to transport the delegates emerged as the highlights of an action-packed day well spent at the Golden Grove Naturals plantation.
Soaring on sustainability
Golden Grove Naturals (GGN) is renowned for its cultivation of tea tree, with some of the original fields dating back over 30 years.
The plantation offers superior grade tea tree oil. GGN is also exploring other in-demand native Australian plants to ensure that more products have the sustainable future that tea tree has come to enjoy over the past three decades. Sustainability is at the core of GGN farming practices. An example of this is the spreading of spent distillation biomass (tea tree mulch) back to tea tree fields. This improves soil structure, microbe life and assists in weed control. GGN's agronomy practices also incorporate integrated pest management and use of organic agrichemical products.
Recently, GGN has collaborated with Lismore Council and Southern Cross University for research into tea tree production biodiversity.
Restoration and rehabilitation work along the Wilson's River bank, development of new crops, and partnerships to develop native lands have made considerable headway with GGN's proactive efforts. The company is currently reviewing its farm plans and is keenly exploring deep-rooted perennial tree cropping systems, best water management practices, ecological diversity, habitat quality, soils and soil carbon, koala and wetland/riparian high conservation values in order to generate biologically-based natural benefits.
With a serious and unwavering commitment to quality, safety, and inclusivity, the company follows a safety-compliant environment for its culturally diverse workforce. Golden Grove's much-in-demand tea tree oil is obtained through an intensive systematic quality management system. Proactively identifying and managing our safety and quality risks, monitoring through audits, inspections, internal reporting and reviews and implementing effective controls are an integral part of the workings of GGN. The study tour to the plantation gave us not just the opportunity to immerse ourselves in the workings of essential oils and the journey from botanical to bottle, but also enabled us to truly understand the core philosophy behind GGN's success story – the golden rule of sustainable growth.
MYRTLE'S LEMONY MOOD
Our visit to GGN's lemon myrtle plantation
A spicy, lemony fragrance comes wafting to greet us as we walk towards rows of trees in a plantation. The aroma is emanating from some of the crushed leaves of Backhousia citriodora, or the lemon myrtle. We are at the Golden Grove Naturals plantation as part of our Australian study tour in December 2018.
Golden Grove Naturals boasts one of the first commercial tea tree plantations in Australia, with roots dating back to the early 1980s. After visiting the tea tree plantation that the farm is renowned for, we continued our exploration with the lemon myrtle orchards.
The native lemon myrtle has been around for many years, and was used medicinally by the aboriginal population. However, it was only recently around the time of the Sydney Olympics in 2000 that the commercialisation and export trade of lemon myrtle leaf and its essential oil really took off . Natural lemon myrtle thrives in the subtropical climate of the rainforests and coastal areas, but also grows well in the Northern Rivers area. Myrtle leaves as compared to other plants, contain much more essential oil, typically up to 4 or 5%. Crushing the leaves releases the volatile oils, and its refreshing lemony scent is attributed to citrus. In fact lemon myrtle contains the highest amount of naturally-occurring citral, in the range of 85 to 98%. As we walked amid the dark green foliage of these medium sized trees, we learnt that the leaves can be harvested throughout nine months of the year, except the three months of monsoon from January to March. The seeds of lemon myrtle have a low germination rate, around 0 to 4%. Though vegetative propagation by rooted cuttings is the most effective, though a tad expensive way, of producing nursery stock, it has potential for selection of specific clones for optimal growth and oil content. GGN's efforts with the lemon myrtle programme have yielded a healthy strike with a high essential oil content.
THE KOALA COALITION
The bushlands, rainforests, and riparian foliage – the koala was found across every Australian terrain. Indigenous Australian tribes have regarded the koala as a wise animal; and it has also been depicted in rock carvings. Hunted heavily during the 20th century this gentle marsupial was almost blotted out of existence. However, efforts to revive the koala population paid off.
Today, though koalas abound in Australia, they are threatened by habitat loss as a consequence of land clearing for agriculture, alarming levels of disease, and even dog attacks, and road fatalities due to rapid urbanisation.
A section of Golden Grove Naturals' ample eucalyptus acreage abuts the local koala rehabilitation forest, the Tucki Tucki Nature Reserve. Another two kilometre stretch of eucalyptus corridor extends from the nature reserve to the Wilson River's edge. Working diligently to improve habitat values, GGN has partnered with the Lismore City Council to rehabilitate sick, injured or orphaned animals and re-establish them back into the wild.
Fussy as children, koalas are herbivorous. Those found in the Lismore area prefer only certain eucalyptus leaves – Eucalyptus tereticornis or forest red gum, Eucalyptus microcoris better known as tallowwood, Eucalyptus robusta, popularly called swamp mahogany, and Eucalyptus propinqua or small-fruited grey gum. However, eucalyptus species used for essential oil production are not the preferred choice for koala food.
Lunch at the Golden Grove Natural homestead was accompanied by an invigorating interaction and discussion with Kate Steel from the Lismore Council and koala conservationist Angie Brace on collaborative sustainability projects undertaken in conjunction with Golden Grove Naturals. Angie's interaction was an eye-opener; she is the coordinator of koala conservation efforts for the Lismore region. It gave us a glimpse of what we can do to strengthen our bond with nature, and give something back through this koala conservation coalition.
THE GIST OF GENETICS
Southern Cross University
Australia is the emerging hotspot for high quality, naturally safe agro-products and Southern Cross University engages in intensive research studies to support this.
The highlight of December 5, 2018 was our trip to the hub of natural plant research and development, at Southern Cross University (SCU). We had an opportunity to observe from close quarters parts of the leading-edge research work and facilities of Southern Cross Plant Science, viewing the Environmental Analysis Laboratories, Geoscience Laboratories, Plant Genetics and DNA Laboratories, and Plant Chemistry Laboratories. We also visited the tea tree genetics plantation to obtain first-hand experience of the tree oil breeding programme. The tour of the facilities culminated with presentations by experts in the field. SCPS welcomed us with an introduction to the staff and capabilities.
Ian Southwell and Ashley Dowell traced the history of the Australian essential oil industry to the current scenario. We also gained insights into SCU's tea tree oil programme and on-going studies on cannabis and hemp.
GENETICS PLANTATION
Tea Tree breeding Tea tree has emerged as Australia's iconic export to the world. SCU was the original site of the Australian Tea Tree Oil Research Institute (ATTORI); the institute underpinned the industry developing Australian standards, cosmetic and other natural product formulations. The institute was short lived with the Australian Taxation Office closing the facility some 12 months after opening. SCU took over the building and a significant proportion of the analytical equipment and continued to operate under the brand name Centre for Phytochemistry. The Centre is currently operating under the name Southern Cross Plant Science and incorporates a Centre for Conservation Genetics.
The SCU recently established a partnership with the Australian Tea Tree Industry Association (ATTIA) for tea tree breeding programme, actively supported by levy funds from the government. The University has a diverse tea tree population at SCPS's Brookside field site at Lismore that provides a varied germplasm collection for research. Genome analysis and DNA sequencing studies throw light on characteristics like pest and disease tolerance levels, root and shoot architecture, and terpene and methyl eugenol composition. The findings then constitute the founding block on which development of cultivars with better productivity, drought tolerance and superior oil quality, and techniques for clonal propagation are based.
Previously, the ATTIA tea tree breeding programme involved a fourth generation breeding population. A full tea tree breeding cycle required about eight years; from the formation of the plant to the final selection for the next generation propagation. But today, the evolution of the SCU tea tree breeding cycle requires about 12 months from the formation of the plant to the selection of the next generation propagation.
The particpants also visited the Department of Primary Industries in New South Wales. They are a government agency, which GGN partner with for the propagation of new essential oils. CEO Ross Dickson, and expert Kath French helped the group to understand the growing potential of Australian essential oils.
RAINFOREST RHAPSODY
Walking down a rough craggy terrain into the verdant shade of tree cover, you can lose yourself in the enthralling scents and sounds of a tropical rainforest. You would never believe that you are right in the midst of a busy farm! This is exactly what we experienced when we visited Rainforest Food and macadamia farm. Yes, you read it correctly; there is a lush rainforest right in the heart of this iconic property.
The rainforest, lake, and surrounding macadamia plantation is owned by the Huston family. Anthony Huston took us on a guided tour, walking under the rainforest canopy to view many plantings of native Australian rainforest and bush foods. The ability to crush leaves, and taste fruit and berries, directly from the plantation trees added to the joy of the journey. Later, we met back at the macadamia processing factory and enjoyed a light morning tea. Tasting many rainforest infused products, such as lemon myrtle cookies, Davidson plum, and Riberry jams, macadamia nut spreads, macadamia oil, and lemon myrtle infused macadamia oil, and of course, macadamia nuts and chocolate covered macadamia nuts.
Whilst we devoured the delicious morning tea of native products we had the pleasure of enjoying a passionate presentation by Rebecca Barnes of Playing with Fire Native Foods. Rebecca shared her mission to supply the highest quality Australian indigenous foods in as pure and natural way as possible (without artificial additives or preservatives) for both domestic and international markets, and to educate the public about these Australian natural foods. To encourage and support organic sustainable farming methods, which aim to preserve native flora and fauna and their habitats, Rebecca covered such culinary products as cinnamon myrtle, lemon myrtle, aniseed myrtle leaf products, bush tomatoes and bush peppers, wattle seed, bunya nuts, rosella flowers, finger limes, Davidson plums, lilly pilly berries and quandongs. Rebecca introduced her products, which included bush teas and dried spices.
BYRON BAY BROOKFARM
No tour to Brookfarm is complete without a stroll in the rainforest. Nestled in the Byron Bay hinterland, macadamia corridors are thickly surrounded by tropical trees abounding in a variety of native plants and animals, "… even a native platypus," laughs Will, one of the Brook brothers.
 It all started in the family. In November 2000, Pam Brook took the plunge from being a dentist to co-founding Brookfarm with her husband Martin, an ex-film producer. Today, though it is a generational family business, Brookfarm employs over 70 people across its fl ourishing state-of-the-art Byron Bay bakehouse and macadamia farm. Martin and Pam Brook purchased a run-down dairy farm. The rich, red volcanic soils, high rainfall, and warm sub-tropical climate of the Byron Bay hinterland were ideal for macadamias to fl ourish. During the initial planting years, the Brooks noticed that the undulating hilly ground in the heart of the farm was unsuitable for orcharding and prone to erosion. So they planted 30,000 rainforest and eucalyptus trees on the steepest slopes and along a dry creek bed. The results are incredible and a lesson in patience. Today, the rainforest with the perennial creek running through is home to a thriving ecosystem and a wildlife haven.
MAD ABOUT MACADAMIA
Macadamia muesli, granola bars, walkabout snack, premium nut blends and even porridge, Brookfarm is Australia's leading producer of award-winning gourmet macadamia. Organically grown macadamia nuts are sourced from Pam and Martin Brook's own farm. These are then carefully hand-blended, toasted, and mixed fresh every day.
The only part where machines come in is in the packaging stage, but otherwise as they put it, "it's all hands on deck!"
-Macadamia is Australia's only indigenous nut tree
-Rich red soil and subtropical climate with warm winters, and copious rainfall is conducive to macadamia growth
-It takes 10 years before you can get your fi rst crop; and this makes it expensive
-Only about 3 of the stalks turn into harvestable nuts; and of these about 35 to 37% are usable
Strong community feeling, love for the environment and sustainable farming practices lie at the heart of Brookfarm. The Byron Bay hinterland farm houses over 35,000 trees, with over 4,000 macadamia trees and 30 acres contributing to the regeneration of lush tropical rainforest. Home to many species, the rainforest ecosystem is Martin's sustainable pest control system. Rats are kept at bay by resident breeding owls, and the dreaded nut borer biologically controlled by trichogramma wasps. Brookfarm is one of the first places to adopt this method. The bakehouse is powered by the sun using 288 solar panels, and the Brooks make it a point to always source top-notch ingredients from Australian farmers without compromising on quality.
Brookfarm has grown to become a household name among national and international food brands. But there is one ingredient that keeps the Brook macadamia magic alive – its steadfast commitment to its founding principles of innovation, quality, and sustainability.
OF FARMS, FOOD AND FLAVOURS 
Brookie's Gin distillery
Travel is incomplete without gustatory explorations. Amidst day expeditions to plantations, laboratory visits, presentations, and photography sessions, the flavours of fresh culinary delights were a treat to the palate.
The evening of December 3rd found us salivating at the tantalising aroma of authentic Italian fare down under. Crisp, wood-burnt pizza and other delicacies were accompanied by a carefully chosen selection of drinks at Golden Grove Naturals. Another time, it was an out-and-out Australian dinner with a special barbeque and drinks. But from a purely gastronomic point of view, the highpoint of the study tour was the gin tasting and live cooking by Samantha Gowing at the Cape Byron Distillery on December 7, 2018.
Once we made our way back to the farm from a tour of the rainforest, we were led to the verandah overlooking the lush landscape. As we relaxed, and recuperated from our efforts, we were treated to a breathtaking visual panorama, and some special surprises. We started off with the zesty Brookie's & Tonic, garnished with caviar "finger" lime pearls, and anise myrtle leaves. As we sipped our way through the distinct flavour unique to the region, we learnt about the art of the Brookfarm distillation process. We got to know that Brookie's Byron Dry Gin contains 18 botanicals, which are native to the region of the NSW Northern Rivers.
Each season brings new flavours from the rainforest that are then carefully crafted into seasonal cocktails. Spring brings in native raspberries, while summers are the time for Davidson plum, the backbone of Brookie's Slow Gin. With autumn and winter come a plethora of key botanicals like gamely ginger, cinnamon, aniseed and lemon myrtle. "We built the distillery here on one of the last plots of vacant land on our farm and we use a lot of the native flavours, a range of botanicals that come straight from our rainforest into our gin," Eddie Brook explains. And all the while, with every word, sip and aroma we are taken on an unforgettable sensory experience.
Click here for PDF version with complete report
---