From Coal to Fragrances
November 16, 2020
JOS CUNNINGHAM ACES THE CONSUMER-CENTRIC APPROACH
Jos Cunningham
General Manager, Ultra International UK Ltd.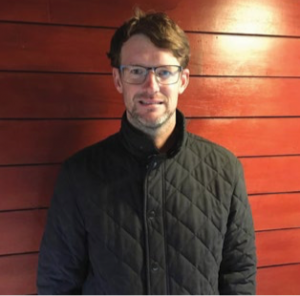 We are proud to have on board Jos Cunningham as General Manager, Ultra International UK Ltd. He has had an unusual path into the industry but is a strong believer in putting the customer's needs first.
On the surface, coal mining and the sweet lure of fragrances have very little in common, but through Jos Cunningham's eventful career graph some commonalities have been found. Starting as a Production Geologist for Anglo American in 2008, he found his way to the perfumery industry. From Jos' point of view, it wasn't a challenging transition, he sees a lot of similarities between the two industries, "It might sound surprising, but there are quite a few similarities between rocks and essential oils. Both can be identified based on their source material and chemical makeup. Both undergo relatively high temperatures during creation. Sensory characteristics are used to distinguish both, and it is a well-known fact that the only way to distinguish a claystone from a siltstone is to take a bite of each".
It is my belief that the foundations of the current widespread use of aromatherapy were formed in the late 70s, with the publication of Robert Tisserand's book, 'The Art of Aromatherapy'.
Jos' years working with coal helped him appreciate the importance of the sense of smell and the role fragrance plays in all our lives "The thing about being underground is one's sense of smell is heightened. It is mostly very dark and very smelly too! I once shared a very dark and cramped underground train carriage with six others. One of them was wearing a very delicate perfume, which cut through the diesel fumes every now and then. A very surprising experience".
The adventures of Jos Cunningham have now brought him to Ultra UK, and he is excited about the opportunities it presents. Jos believes a simple strategy focused on building a legacy on the pillars of sustainability and customer satisfaction is best. Consumers constantly make value decisions based on product features and the wider environment they find themselves in. "While it is very difficult to control or predict the environment, operating in a sustainable and consumer-centric way will go a long way to guaranteeing success".
With the aromatherapy market growing rapidly, he has some theories about its origin, "It is my belief that the foundations of the current widespread use of aromatherapy were formed in the late 70s, with the publication of Robert Tisserand's book, 'The Art of Aromatherapy'. There are and have been many other contributors to this movement, giving rise to its ubiquitous use by the general public". Even after all these decades Tisserand continues to be at the forefront on the subject. As Jos pointed out, his role in promoting the safe usage of essential oils has thrown a new light on the aromatherapy industry.
Over the years, the role of aromatherapy has been redefined too. Today, it is widely considered as an alternative medicine practice. This has been another major contributor to the spurt in demand of essential oils. Jos does not recommend using essential oils for medicinal purpose, "but there has been a lot of good research on this subject and the annual Botanica conference is a great platform for sharing this research".
Being cautious, and assuring the safety of the products has been one of the biggest trademarks of The Ultra Group. Jos Cunningham's approach ensures that every product coming out of Ultra International UK meets the highest quality standards. Personally, overseeing the entire process, fragrances are bound to catch one's imagination, and it is a magical aroma from South Africa that has caught Jos' nose, "Currently, my favourite is buchu essential oil. It is from South Africa. And during my misguided youth, a friend promised the leaves had "magical" properties. They didn't. But its unique and versatile odour has stayed with me".
Apart from aromatherapy, essential oils are used widely in food, beverages, sanitisers and even insect repellents. In fact, Europe is one of the largest consumers of essential oils. But the current market scenario poses multiple challenges to the industry. The change in the European market due to Brexit, and the severe economic burden of the coronavirus pandemic will require innovative approaches by leaders to stabilise the situation. According to Cunningham, it is the basic principle of making the consumer the focus of strategies that will be the most effective, "Over the last few years the market price for crystal balls has plummeted. As mentioned previously, I believe a sustainable consumer-centric approach will almost certainly guarantee success in any market".
Keeping the focus on consumers, Ultra International UK is holding virtual meetings to understand customer requirements and making every attempt to fulfil them. On the logistical front, to ensure the delivery cycle is not affected, multiple locations are being used to store products. Understanding the demand patterns, new products are being launched by the Group as well. In fact, customisation of specs as per customer requirement has also been undertaken.
Moving to the sourcing side, escalating raw material prices is another challenge facing the industry. With a positive approach, Jos believes that working together we can resolve this problem as well, "I believe we need to behave in a sustainable and responsible way. Our industry doesn't exist in isolation, and if we can work with other sectors, we can overcome these peaks and troughs in raw material availability".
With a drive to excel and conquer challenges, Jos Cunningham is leading Ultra International UK towards greater success. His experience in multiple industries has made him an excellent problem solver, and the team is fully prepped to answer any market demands.