Leading the Development of Eucalyptus Oils
November 2, 2020
Miguel Doval
Executive Vice President-Europe, Ultra international BV
A highly motivated and experienced individual, Miguel Doval came to work for the Ultra Group after spending 12 years at Procter & Gamble, and seven years with Firmenich, Singapore. The switch was a natural progression for him, "I wanted to move away from my comfort zone and be closer to the soil, seed, and farmers. Thus, the move to Ultra seemed the perfect fit. It was challenging and exciting to leave purchases, being a leader of a global team, and move into sales".
 It is this desire to challenge and upscale that helped Miguel add a revolutionary product to the Ultra portfolio, "When I joined the Ultra Group, I realised that eucalyptus was a key product, and unfortunately missing from the collection". With its numerous applications in personal care and pharmaceutical products, eucalyptus has found a huge following. Miguel witnessed the rise of eucalyptus and was convinced of its massive appeal, "Eucalyptus oil is widely used in the fields of flavour, fragrance, pharmaceutical, personal care, and aromatherapy. Indonesia has been its largest consumer in the last 10 years".
Miguel was quick to plug this gap, as he found an understanding ally in the Group's Managing Director, "I had a discussion with Mr Ravi Sanganeria, and soon after put a plan in place to make eucalyptus a new core business. Making good of my previous experience in China, we forged new partnerships and within two years have become a key player in the industry. We are selling to important players in the market and have recorded double digit growth on the product". A major part of Miguel's job is to build such alliances, and they come with their trials, "Typically when we want to bring a new partner to the Group, we implement a period of trust. During this time, we monitor them not only when everything goes right, but also when times are challenging". Identifying new partners and markets requires a multi-pronged approach, where reliability is of course the first step. This is followed by gauging quality standards, and then testing the raw material supply chain down to the farmers level.
Having successfully identified a new product and secured its supply chain, the next big task is to answer the ever-increasing demand. A multi-faceted product like eucalyptus is bound to witness a constant surge in demand. This presents unique challenges in terms of production, farming and the supply chain. Miguel explains the major difficulties faced on the ground, "Firstly, the farming area of eucalyptus is decreasing. The government in some areas is encouraging farmers to switch to crops like walnut trees, pseudo-ginseng (a kind of Chinese herb) and Acacia dealbata Link".
Government started restricting eucalyptus tree plantations. In 2010, the NGO Greenpeace published the article where eucalyptus trees were described as "water pump". "poisonous trees" and "ecology killers". It was found that emissions from the burning of the waste of eucalyptus leaves are a problem. But without further investigation, the media and some local governments speak negatively of the planting of eucalyptus trees. There are also plantations along the roads that haveto be cut in some regions.
'But, despite this, there is enough crop available in the market to meet the oil demand,' he continues. 'In fact, in 2018 the high price of eucalyptus saw a massive surge in production and supply. This sudden increase in demand can be attributed to the growing usage of the oil. Eucalyptus was traditionally used for the purpose of flavour and fragrance. In recent years, it has been aggressively used in aromatherapy applications".
The growing demand and increase in usage pose two immediate questions. Firstly, what happens in the light of the Coronavirus pandemic? Will the product continue to witness an upward curve? And, if it does, is the market in a position to handle these demands.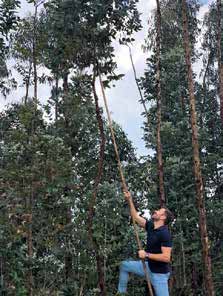 Miguel is optimistic about the future of eucalyptus, "I believe in the next 10 years the demands in rectified oil will continue to grow. We have seen the demand grow from 10,000 tons in 2010 to approximately 15,000 tons today. This figure is expected to touch 17,000 tons by 2025. Eucalyptus oil is used in disinfectants. And, in light of the pandemic, we have already seen increased demands from Australian and American markets".
A multifaceted product like eucalyptus is bound to witness a constant surge in demand. This resents unique challenges in terms of production, farming and the supply chain.
The next and more important question for eucalyptus concerns sustainable farming. With increasing demands, responsible production practices become imperative. The Ultra Group firmly supports sustainable practices, and Miguel is positive that eucalyptus can not only sustain the increasing demands, but thrive as a product, "Yunnan has a rich forest reserve of eucalyptus. And China boasts of the largest producing area for eucalyptus oil in the world.
They account for almost 75% of the total production. Let us see some figures to understand this better. In the last 5 years the annual crude oil production has reached 15,000 tons. Among 129 counties in Yunnan, excluding around 10 which are either too cold or hot, more than 100 counties have plantations of eucalyptus trees. More than two million farmers are involved in the plantation and distillation activities of crude oil. And there are roughly 50,000 distilleries all over the province". These numbers clearly show the vast scale of oil production. But, the next step is ensuring sustainable practices to protect the environment. Miguel assures that the farmers are toeing the line when it comes to environment-friendly production practices, "Various farmers have realised that the emissions coming from the burning of eucalyptus leaves waste that can create headaches. They have thus introduced practices to take care of the waste. They crush the waste of eucalyptus leaves, turn them into pellets, and use it as fuel for the boiler".
But Miguel does concede it is a tricky road to navigate, since countries interpret environmental laws in varied fashion, "In order to comply with current environmental protection requirements, numerous governments may restrict or even forbid the planting of the trees. But as eucalyptus oil has been an important part of farmers' income, many areas maintain the plantation and distillation. At the end of the day, if production decreases in one area, it is compensated by an increase in another. By various estimates crude oil volume is only bound to increase". Eucalyptus is one of the many successful stories of Miguel Doval, and as he continues to seek newer challenges, it is bound to find company soon.