Celebrating blossoms
April 23, 2019
Flowers are a great source of inspiration. The colourful and fragile beauty of blossoms and their beautiful natural scent inspire all – from famous poets to the most creative perfumers. Here is an insight on a perfumer's delight.
Among the numerous natural raw materials employed by master perfumers to create their fragrances, flowers are the most used part of a plant. Nevertheless, depending on the species, petals, buds, and even leaves can serve as raw material to produce essential oils.
Rose, jasmine, tuberose, narcissus, mimosa, orange blossom, lavender, and ylang-ylang are among the most appreciated floral essences in perfumery and aromatherapy.
I present a closer look at the secrets that lie deep in the heart of these flowers. From the characteristics harnessed by perfumers to formulate their most exquisite fragrances, to the properties we can draw from in our everyday lives.
QUEEN OF FLOWERS
Of all the flowers, the best known has to be the rose. Appreciated for its beauty and delicate fragrance, its perfume and cosmetics usage date back to ancient times.
The subtle, yet refined and opulent scent of the rose lends perfumes a natural note. Indispensable in women's perfume, rose constitutes the heart note of so-called floral fragrances, like Nina Ricci's L'Air du Temps (1948), Paris by Yves Saint Laurent (1983), Trésor by Lancôme (1990), and 1 Million by Paco Rabanne (2008).
Perfumery makes use of two botanical varieties from the hundreds of known rose species:
Rosa centifolia L. (hundred-petalled rose), also known as the Rose de Mai, cultivated in Grasse and Morocco.
Rosa damascena more commonly known as the Damask Rose, grown mainly in Bulgaria and Turkey.
These two varieties feature very different fragrances. Rose de Mai has a much warmer and sweeter aroma than the Damask Rose, which has a fresh scent.
In addition to perfumery, the rose contains an essential oil with indisputable sedative, aphrodisiac, and soothing qualities. Its anti-wrinkle properties are excellent, offering a natural, durable alternative to skincare creams. Rose petals can also be used in cooking, adding a distinctive flavour to confectionery, Middle Eastern pastries, and jellies.
Synonymous with romanticism and love, the rose is the most appreciated flower.
DIVINE JASMINE
Jasmine, along with the rose, is the most frequently used flower in modern perfumery. Jasmine's unique olfactory properties encompass an astonishingly wide range of facets that take in soft, flowery, warm, animal, spicy, and fruity notes. The power of jasmine's perfume, equal to the rose in terms of its voluptuousness and opulence, cuts a striking contrast with its fragile flowers.
Of the two hundred known species, perfume creators predominantly employ only two jasmine varieties:
Jasminum sambac native to a small region in the eastern Himalayas in India but now most production and extraction is undertaken in the state of Tamil Nadu.
Jasminum grandiflorum which sometimes goes by the names of Grasse Jasmine. The dominant producers of jasmine concrete are India and Egypt.
Combined with rose, Jasminum sambac features at the heart of numerous prestigious perfumes, including Chanel No. 5 (1921), Arpège by Lanvin (1927), and J'Adore L'Or by Christian Dior (2010).
Jasmine sambac absolute features in recent perfume creations, like Hypnotic Poison by Christian Dior (1998), Thierry Mugler's Alien (2005), and Flowerbomb by Viktor & Rolf (2005).
Jasminum officinale also called Common Jasmine or Poet's Jasmine, possesses calming, soothing properties. A herbal tea made with this type of jasmine releases tension and calms the nerves. It is recommended for insomnia, and in particular trouble getting off to sleep.
ENCHANTING TUBEROSE
Originally from Mexico, the tuberose was introduced to Grasse in the 17th century to be cultivated and used in perfumery. The courtiers of the "Sun King," Louis XIV of France, were particularly fond of this scent. Women would adorn their bodices with the flowers, and the heady perfume would fill the palace.
Today, the tuberose, Polianthes tuberosa, is mostly cultivated in southern India, around the city of Mysore, where the plantations stretch for miles.
In terms of smell, this unique flower offers a powerful, rich and complex scent. It develops a warm, honeyed floral note with balsamic, jasmine, earthy accents. The mysterious and enchanting tuberose is considered one of the most fragrant plants in the vegetable kingdom. With its sensual undertones, the tuberose is characteristic of fragrances with trail, to which it lends significant personality.
It features in the composition of numerous women's perfumes, such as Dior's Poison (1985), Givenchy's Amarige (1991), and The One Desire by Dolce & Gabbana (2013), to name but a few.
The tuberose symbolizes creativity and dangerous pleasures. Its white colour embodies purity, calmness, and innocence. It is said to protect the wearer from evil spirits.
TREASURED ORANGE FLOWER
In ancient times, orange flowers were the symbol of virginity and were used to decorate headdresses and wedding dresses. Today, in the southern French town of Grasse, the tradition persists of offering an orange blossom garland to couples marrying during the flowering season, from April to May.
Depending on the extraction process, several essences can be used:
Neroli essential oil is obtained by steam distillation of bitter orange flowers (Citrus aurantium) and is produced in Tunisia, Morocco and Egypt. This oil has a delicate, smooth odour. Its name comes from the Italian princess of Nerola, who used it as a perfume in the 17th century. Distillation also produces orange flower water, which is used in cosmetics, therapeutics and cooking. With calming and relaxing qualities, neroli helps reduce anxiety and stress, and brings a sensation of inner peace. In cosmetics, it is an ideal ingredient for regenerating mature and sensitive skins.
Orange blossom absolute is obtained by volatile solvent extraction. Its scent is sweeter and more intense than neroli essential oil. Absolute is mostly used as a heart note, in perfumes like Guerlin's Heure Bleue (1912), Jean Paul Gaultier's Classique (1993), and Armani Code for Her by Giorgio Armani (2006).
Much fresher and cheerful, orange flower essential oil is mainly used as a headnote, like in Poison by Christian Dior (1985), Givenchy's Amarige (1991), and For Her by Narciso Rodriguez (2004).
Orange flower can accentuate certain fruity notes in floral perfumes, but it is also present in perfumes with an oriental character.
PRODIGIOUS LAVENDER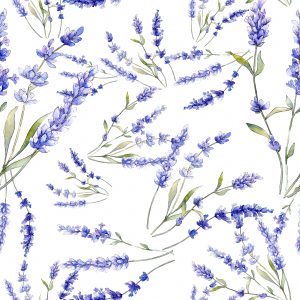 The Romans used lavender to perfume their baths and freshly washed linens. Ever since, this purple-flowered plant has remained associated with the idea of hygiene and cleanliness.
Despite its name, English Lavender or True Lavender, Lavandula angustifolia, is mostly cultivated in Bulgaria and the south of France. The flowers are harvested in July and August, and then distilled to obtain an essential oil with a fresh, delicate, floral fragrance.
True Lavender features in the composition of numerous eau de toilettes for men as a head note to bring freshness, including Le Male by Jean Paul Gaultier (1995), Hugo by Hugo Boss (1995), and Dior Homme by Christian Dior (2005).
In aromatherapy, lavender essential oil is known for its repairing, soothing properties. The relaxing qualities of lavender make it a useful ally to combat stress and insomnia.
In Provence, in the South of France, lavender is also used to perfume the rooms of the house, they simply pick them and put them in small sachets to hang or place in cupboards to delicately fragrance clothes. The smell of the dry blossom lasts for months.
EXOTIC YLANG-YLANG (CANANGA ODORATA)
Cultivated in the archipelago of the Comoros and Madagascar, the very name ylang-ylang evokes exotic travels.
The freshly cut blooms are distilled with steam to extract an essential oil that is frequently used in perfumery. Its flowery, mellow, exotic, musky, and jasmine fragrance is highly appreciated by perfume creators. They sometimes combine it with sandalwood, bergamot, and rose. Ylang-ylang adds an elegant floral note to numerous perfumes, such as Dior's J'Adore (1999), Black Orchid by Tom Ford (2006), and Lolita Lempicka's Elle L'Aime (2013).
In aromatherapy, essence of ylang-ylang is appreciated for its stimulating, regulating, and regenerating effects. A reputed aphrodisiac, it also helps to calm the nerves, and combat nervous tension.
In Indonesia, blossoms of ylang-ylang are spread over the bed of newlyweds.
EXQUISITE VIOLET
Violets, Viola odorata, are reputed for their flowers, delicate fragrance, and medicinal properties since ancient times.
Originally, only the violet bloom was used in perfumery, using an extraction technique known as enfleurage. Nowadays, it is the violet plant's leaves that are highly prized in prestigious perfumery. Since violet leaves grow best in hot climates, they are mostly cultivated in Egypt and, on a smaller scale, near Grasse.
Perfumes that contain violet leaf absolute include Fahrenheit by Christian Dior (1988), For Him by Narciso Rodriguez (2007), and Downtown by Calvin Klein (2013). Calming, purifying, and stimulating, violets are used in cosmetics formulated for tired and irritated skin.
The violet was also Napoleon Bonaparte's favourite flower. In the language of flowers, a violet symbolises modesty, humility, and secret love.
Flowers have been cultivated all over the world for centuries, bringing us much pleasure. Dedicated men and women work the land with humility, enthusiastically grow plants, and patiently harvest blossoms in rhythm with the seasons.
They are concerned with respecting traditions and transmitting their knowledge to future generations. Flower production is part of the heritage of the land where the blossoms are grown. These flowers, when artfully accentuated by perfumers and skilfully employed for their therapeutic properties, write history, sculpt landscapes, and contribute to the economic growth of numerous regions around the world.
Let us continue to respect nature for its beauty, and the wonderful produce it offers us. And let us pay tribute to, and encourage the men and women who spend a huge part of their lives tending their land to bring us such beautiful blooms.
---
Nathalie Sahut, Fragrance Influence, France