Ultra International Inc and Onscent enter into a Strategic Partnership
August 21, 2023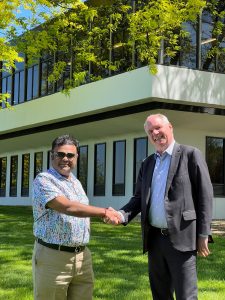 Ultra International Inc. and OnScent have entered into a strategic partnership and an exclusive supply agreement, dedicated to the procurement of natural raw materials. This landmark collaboration represents a pivotal juncture for both companies in order to fortify their position in the industry and take significant strides towards optimising sourcing practices.
In this strategic alliance, Ultra has been entrusted with the key responsibility of sourcing essential oils and other natural ingredients on behalf of OnScent. The synergies of this partnership are poised to deliver tangible advantages to all stakeholders involved. By harnessing Ultra's extensive expertise in sourcing the finest quality natural raw materials, optimised procurement processes, extensive experience, committed transparency and multiple visits to the source to ensure sustainable practices, the advantages of this partnership will extend to all stakeholders involved.
Together, both companies are looking forward to embark on this remarkable journey and chart a course for mutual growth and prosperity under this new agreement.