The Ultra Group's Unflinching Organic Quest
January 16, 2021
In harmony with Nature
Purity and responsibility are the cornerstones on which our organics range is built. Free of any chemical ailments, organic essential oils are safest for consumption. Our production processes are also in harmony with nature. Adopting sustainable practices, we deliver a product that can be consumed guilt-free.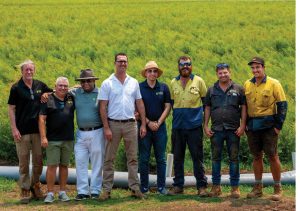 A conscience to protect the environment, keep toxic chemicals at bay, and retain the quality of soil gave birth to the Ultra Organics oils range. With an eye on long-term sustainability, these oils are produced by reducing the usage of synthetic practices. Organically produced herbs and plants, go into the making of these essential oils.
Organic essential oils outscore non-organics on a few valuable parameters – primarily safety, appeal, and therapeutic value. Organics are prepared from plants and herbs, which are cultivated using stringent protocols. The use of harmful pesticides and other chemicals is prohibited at the cultivation stage. This significantly eliminates the chances of chemical residue in the oils produced. They are more likely to be safer and healthier.
Always looking to reinvent and stay ahead of market trends – the Ultra Group already has many organic centres across the globe. Ultra Group companies in Holland, UK, USA and India are certified organic and pledge to procure and distribute safe, organic products. Our Golden Grove Naturals farms in Australia are certified to grow organic products, thus enabling us to learn the latest scientific information covering various topics such as pesticides, yields, benefits of organic farming and nutritional qualities of organic products. World renowned authorities have undertaken extensive testing protocols to certify products at Ultra Group. Our certifications include Australian Certified Organic, Soil Association Organic, Skal Bio Controle, TQ Cert, and Oregon Tilth.
WHY ORGANIC?
Organics are a growing market, and they form a trend that is expected to witness a further upward curve. Various factors add to their appeal:
Their purity and composition increase therapeutic value. The presence of high volume desirable active constituents gives them better healing properties.
Their aroma is distinguishable and more potent than non-organic products.
Increase in customer awareness has also led to a spurt in demand. These oils are used extensively in cosmetics, fragrances, air fresheners and sprays, therapies like aromatherapy, and even as a flavour in food. Demand for concentrated organics to be used in air diffusers is also on the rise.
Apart from the personal benefits, organic essential oils are compassionate towards nature. That is a big draw in the global climate-change and environmental scenario.
SHIFT IN THE CONSUMER MINDSET
The constantly growing list of benefits associated with organic essential oils has made them a consumer favourite. Buying these products is considered a responsible choice, since they are safer for personal consumption and gracious towards the environment. Organics also pass the litmus test when it comes to stringent regulatory protocols put in place for environment preservation.
HUB OF ORGANIC FARMING 
The Ultra Group is prepared to meet the growing demand for organics. These oils are extensively produced in facilities across the globe.
The entire production cycle from organic farming to oil processing in Australia is performed under the watchful eyes of the team at Golden Grove Naturals.
There are only 20 registered organic tea tree farms in Australia currently, and Golden Grove Naturals (GGN) is one of them.
The GGN farms in Australia are a premium farming and production facility. They are certified by Australian Certified Organic in various categories like handler, processor and wholesaler for organics used in food and cosmetics.
Extensively invested in organic farming, GGN's approach is calibrated to not only maintain. but also to increase the fertility of soil. The entire process is designed to be harmonious with nature, from foliar sprays being fitted with nutritional and bio stimulants, to organic and renewable materials usage for compost, to the incorporation of predatory insects, control pests, and constant monitoring of soil mineral composition. All the activities are aligned to ensure sustainable practices are followed to produce organic essential oils.
ON THE ROAD TO SUSTAINABILITY
The road to a cleaner, greener, and sustainable tomorrow requires long term commitment and a reimagination of the production and distribution cycle today. The Ultra Group has embarked on the path of sustainability with its investment in organics. The idea is to implement work systems that stimulate local economies, safeguard the health of the environment, and protect jobs. Maintaining the ideal balance between sustainability and growth is the cornerstone of the principles at the Ultra Group. None of the practices compromise on productive growth conditions.
The first part of our drive requires on-ground change, starting with farmers, who are at the foundation of the pyramid. Growth of local economies by hiring local and increasing employment opportunities is another step towards sustainability.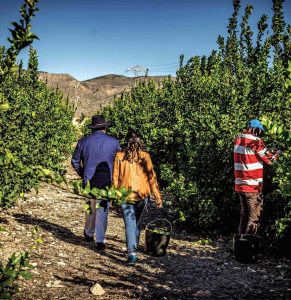 The next order of business is reduction of carbon footprint. Practices like agro-forestry, reducing negative impact on biodiversity, enhancing carbon sequestration, organic certification, and soil and water conservation are all followed for a green and sustainable future. Additionally, it is ensured that all partners source and grow certified organic herbs and plants. The health of the soil is meticulously evaluated. They are taught to adopt crop rotation and nourish the soil with natural fertilisers like compost. This process is beneficial for restoring soil vitality. Since fertilisers and pesticides are excluded from the process, the water streams remain chemical free. This is an extremely crucial factor, since wildlife suffers heavily from the chemical pollution of soil and water. The entire process saves energy and reduces carbon emissions. All these exercises lead to the ethical, consistent, and secure supply of highquality product. The range of organics under the Ultra banner is chemical free and tested internally, as well as by external certifying agencies, to guarantee the purest and safest product.
There is a delicate balance between sustainability and the future of the essential oils industry. The biggest challenge is to sustainably produce an inherently unsustainable product. Customer awareness coupled with responsible business enterprises have diverted the essential oils industry towards a sustainable path. The Ultra Group is on a cross-country ride on that path, we are in it for the long haul; and our Ultra Organics essential oils range is proof of the same.