IFEAT'S 12TH STUDY TOUR TO SOUTH AFRICA NOVEMBER 2022
April 27, 2023

The Ultra Group has always been a strong supporter of IFEAT Study Tours and for several years Ravi Sanganeria was the Chair of the IFEAT Study Tour Committee. Laura Johnston and Lina Piccininni from the Ultra Team participated on the IFEAT's 12th Study Tour that took place in South Africa from Friday 4th November to Saturday 12th November 2022. Each study tour is different. The South African Study Tour (SAST) contrasted sharply with some of the previous Study Tours not only in that delegates saw and smelt a wide range of essential oils from southern Africa but also within the space of eight days travelled over 4,750 km from the Atlantic Ocean to the Indian Ocean and through some magnificent and diverse scenery and cultures.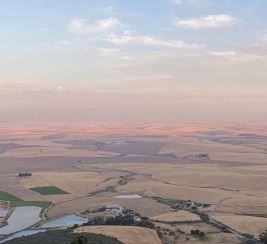 The Study Tour started in Cape Town in the southwest and finished in the east in either Durban or Johannesburg, depending on the departure airport. The days were filled with visits to diverse companies – all IFEAT members – involved in our industry in South Africa. Another important feature of the SAST was the interaction between delegates from 18 countries each of whom had diverse roles in the flavour, fragrance, and aromatherapy sectors. All were willing to share their knowledge and experience either during the company visits or at mealtimes and during their travels together by coach or on flights. Many lasting friendships and business relationships were established.
The Study Tour was not for the faint of heart – up early, to bed late, six different hotels and on the go all day long – not to mention the inability of our small aircraft to land at the desired location because of low lying clouds, necessitating a five-hour coach ride to finally reach our destination late in the evening. Otherwise, throughout the tour the weather was almost perfect, with only one afternoon of heavy rain. The range of essential oils being produced in South Africa also meant that it was sometimes too early in the season to see some products being harvested or processed. Nevertheless, our very hospitable hosts went out of their way to hold back some harvesting and processing so that participants could see these activities first-hand.
South Africa is an increasingly important global supplier of essential oils, and the region is a significant producer of lesser-known indigenous essential oils and botanicals, which are making their way into new cosmetic and cosmeceutical formulations. November, which is towards the end of spring in South Africa, was a good time to see the growing and processing of several essential oil crops. While travelling around this beautiful country, delegates were able to see diverse environments, alongside magnificent scenery and a rich heritage of traditional music, dance, crafts, costumes, and cuisines.
The tour began in beautiful Cape Town. The Cape is a UNESCO World Heritage Site with the largest floral kingdom in the world and the third highest level of biodiversity. Fynbos (fine leaf plants) are a distinctive type of flora found only on the southern tip of Africa. Fynbos oils include buchu, Cape chamomile, Blue Mountain sage, and Cape snowbush and delegates visited farms producing these oils, as well as organic rosemary, lavender, Artemisia afra, and several nurseries where other potential essential oil plants were being cultivated and trialled. On the eastern side of the country delegates visited companies who were growing and producing tea tree, several types of eucalyptus species, lemongrass, niaouli, lemon tea tree and rose geranium. The final day visit to the game reserve also provided the opportunity to learn about other fragrant and medicinal plants.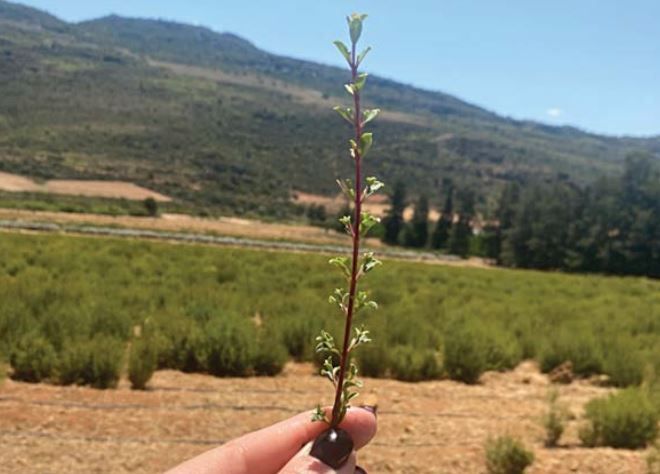 Throughout the tour the delegates were warmly welcomed by the South African companies who explained in detail the growing, harvesting, distillation and further processing of a range of South African produced F&F and aromatherapy ingredients. It was good to see the important strides and efforts that South Africa is taking to increase the volume and range of ingredients being produced.
The tour began in Cape Town, Africa's most southerly city, with a Welcome Reception and briefing on the terrace of Table Bay Hotel with stunning views over the harbour towards the iconic Table Mountain. Earlier in the day some of the delegates had climbed up Table Mountain, while two Ultra members chose the easier option of a helicopter trip.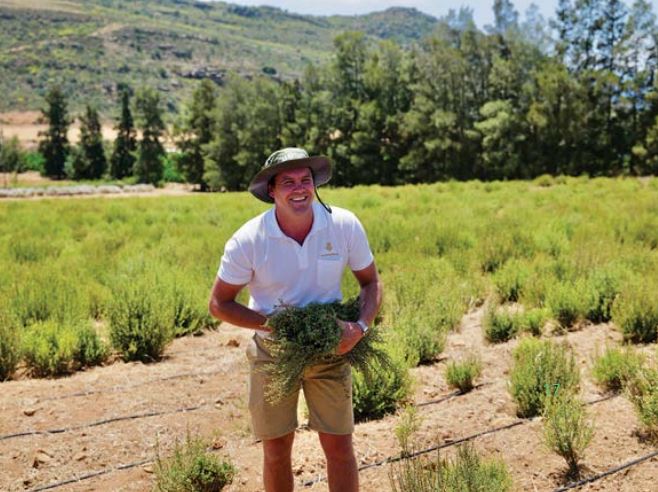 On Saturday November 5th we travelled north to the Cederberg region where two operations were visited. Skimmelberg Fynbos Oils Ltd. (www.skimmelbergfynbosoils.co.za) is organically certified and produces buchu, Cape chamomile, Cape may, Cape snowbush, and rooibos tea. After a superb brunch Lindsay Chicken and Paul Hartwig and their colleagues provided a detailed tour of their operations representing organic farming at its best. The tour included a visit to the buchu fields, the nursery, the innovative wormery providing organic fertiliser for the cultivated buchu and rooibos tea, and the distillery producing buchu and other fynbos oils. The visit ended with a Q and A session and more delicious food and tasting of buchu and rooibos teas.
In the afternoon we visited Mouton's Valley Pty Ltd. (www.piquetbuchu.co.za), owned and operated by Eric and Michele Starke. The beautifully situated farm has been producing buchu for over a hundred years, as well as a wide range of temperate fruits. The farm spanned from a lake in the valley to hills up where the buchu is grown, and the group were lucky enough to ride in the back of an open-air truck and witness the spectacular valley views. We were also able to taste Buchu Hydrosol which is known for many of its therapeutic properties. Today the buchu and other plants are cultivated rather than wild harvested as previously and a new distillation unit had been installed. The long day ended with a meal at the Gold Restaurant in Cape Town where delegates were served with a range of cuisines from many African countries alongside African traditional dancing.
On Sunday November 6th we visited Herbs-Aplenty (www.herbs-aplenty.com), which is to the east of Cape Town and is owned and operated by Elmarie de Bruyn and her son Pietersarel de Bruyn. The company produces a range of oils and herbs: rosemary, lavandin, lavender, Blue Mountain sage, African wormwood, and Cape chamomile – as well as several consumer products, including gin! Touring the farm's growing areas, nursery, and distillery we were treated to many insights into the fynbos oils. Elmarie then held a session of smelling and discussing the many benefits of a whole range of locally produced oils. The day finished off in the Cape Winelands in the foothills of the Helderberg Mountains, with an educational wine tasting session at one of the old wine estates. This was followed by an excellent sunset meal at the Morgenster Estate, which also provided an opportunity for some delegates to show off their dancing skills. Both estates were set in beautiful locations and each had been established over 300 years ago.
The three farms visited at the Cape each covered hundreds of hectares, some of which were protected and devoted to conservation, and set in beautiful locations. The owners were passionate about biodiversity conservation and actively promoting sustainable best practices and benefit-sharing. Moreover, each company is researching and evaluating possible new essential oils to produce.
Another early start on Monday November 7th as we flew from Cape Town to Durban and then onto the beautiful Oyster Bay Hotel at Umhlanga. This overlooks the Indian Ocean and an iconic lighthouse and is one of the best hotels in Africa. In the afternoon there was a Study Tour innovation with a Scent Creation Workshop led by the Master Perfumer Frank Rittler. The local companies had provided a range of local essential oils from which each delegate was able to smell and create their own fragrance, a first for many delegates. The practical work was preceded by an overview of perfume history, fragrance structures, ingredients, and applications. The Workshop ended with the creation of a range of cocktails involving a range of flavours and fragrances. It was very interesting to learn from the local producers what notes they try to bring out in their essential oil production.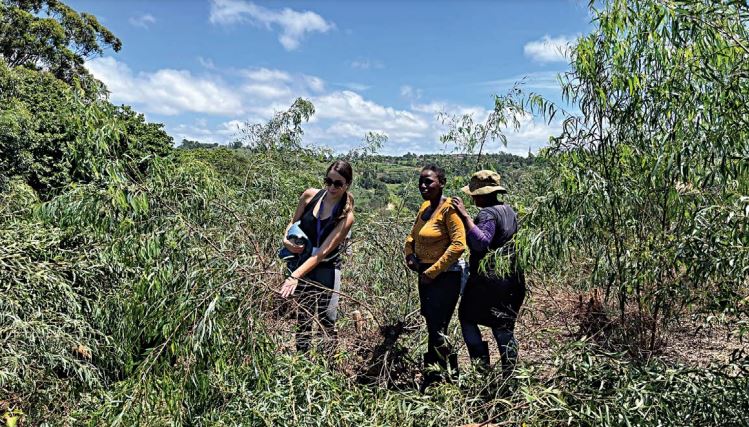 The next day was spent travelling north to visit Ayanda African Oils (https:// ayandaoils.com), a farming cooperative founded by a group of farmers to sell their products jointly and share their production, processing, and marketing knowledge. There are currently 31 shareholding members producing essential oils on over 700 hectares. Two major products are tea tree and Eucalyptus Smithii oils but other oils are being marketed including lemon-scented tea tree, lemongrass and niaouli. In addition, Ayanda is currently investigating several other oils. We spent several hours being shown around the operations by Mathias Wessels, the General Manager, and his colleagues. They provided detailed explanations of their extensive production: harvesting, distillation, processing, and storage operations, including the rum distillery – as well as an excellent meal at a local Portuguese restaurant.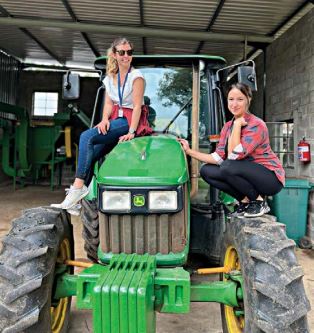 The following day we drove south to visit Lion Rock Essential Oils, a joint venture combining decades of farming experience to become a world leader in producing organic Eucalyptus radiata oil as well as tea tree. Dave Mitchell, one of the owners, shared his extensive knowledge and enthusiasm for essential oils with the delegates on an extensive tour of the farming, harvesting, organic manure and distillation operations. We understood better the difficulties and extra efforts put into place for organic farming, including continual hand hoeing and the use of organic fertiliser and compost. Following on was a visit to Oribi Oils, a producer group collaboration between large-scale commercial growers and disadvantaged emerging farmers producing several oils. Oribi Oils works in the tribal area of KwaNyuswa and also in the Oribi Flats. The operation is headed by Stuart and Lauren Bateman and produces several fair-trade essential oils such as tea tree, rose geranium, rosemary, and Eucalyptus radiata. Following an excellent lunch Stuart made a presentation on the economic, social, and political aspects of farming operations in the KwaZulu region. This was followed by a drive to the Khula Community Centre, supported by Oribi Oils among others. The Centre provides feeding and educational programmes for the rural community – and we were entertained by the xylophones and drums of their Marimba Boys band. The afternoon activities and entertainment were recorded on a short video available on YouTube: https://www.youtube.com/watch?v=lXxsXf1aOO4
The next day was spent travelling north to visit Ayanda African Oils a farming cooperative founded by a group of farmers to sell their products jointly and share their production, processing, and marketing knowledge.
Unfortunately, the next day's visit did not go according to plan. As mentioned earlier, the dense clouds meant our small aircraft were unable to land leading to a diversion to Johannesburg and a long five-hour coach trip to Piet Retief. Nevertheless, the following day was a truly memorable one. A very early start meant that we were able to visit Eucaforest (www.eucaforest.com) and see the harvesting and processing of Eucalyptus dives, including the mobile distillation unit and the isolation of the crude oil into its various constituents.
The operations were described in detail by several Eucaforest staff supported by Catherine Crowley, the owner and Nicola Laubscher, the CEO, who were also tour participants. In addition, the delegates were entertained by the Eucaforest Choir and dancers to a moving rendition of Jersusalema, the global hit that was written and first performed in Zululand.
Then another long drive to Thanda Private Game Reserve to spend the last night. It was not a question of "chilling out" after a very busy week. It was rather spending the afternoon on open vehicles riding around the game reserve seeing some of the icons of African wildlife – elephants, lions, giraffes, cheetahs, rhinoceros, and many others – followed by an excellent "bush dinner" around open fires entertained by a Zulu warrior dance troupe and a lecture on the local aromatic and medicinal plants to be found on the reserve. Some participants were able to sleep in the tented camps at night, immersed in the environment and really elevating the wildlife experience. Late to bed but an early rise at dawn (i.e., 4AM) to make another open top tour of the reserve before back for breakfast and check out. Long days – but unforgettable experiences.
Throughout the tour, delegates saw and discussed at length the growing, harvesting, processing and uses of many essential oils. We received generous gifts from the companies, visited and enjoyed some excellent local cuisine and entertainment. From beginning to end we were fortunate with relatively good weather and excellent organisation. The Local Organising Committee of Catherine Crowley and Nicola Laubscher as well as Mellanie Ferreira of Africa Awaits, the tour agent, and the many South African companies that participated, as well as IFEAT, are to be warmly congratulated on providing yet another memorable Study Tour. For us, on our first IFEAT Study Tour it was a wonderful, unforgettable and in several ways a life changing experience.