IFEAT 2019 AN "ESSENTIAL" BLEND OF BUSINESS AND CULTURE
January 5, 2020
In God's own country, we had the largest gathering of the essential oils community. Many discoveries were made with a perfect blend of business chatter, along with exposure to Balinese culture, traditions, and heritage. Here's the round up of what happened at IFEAT 2019.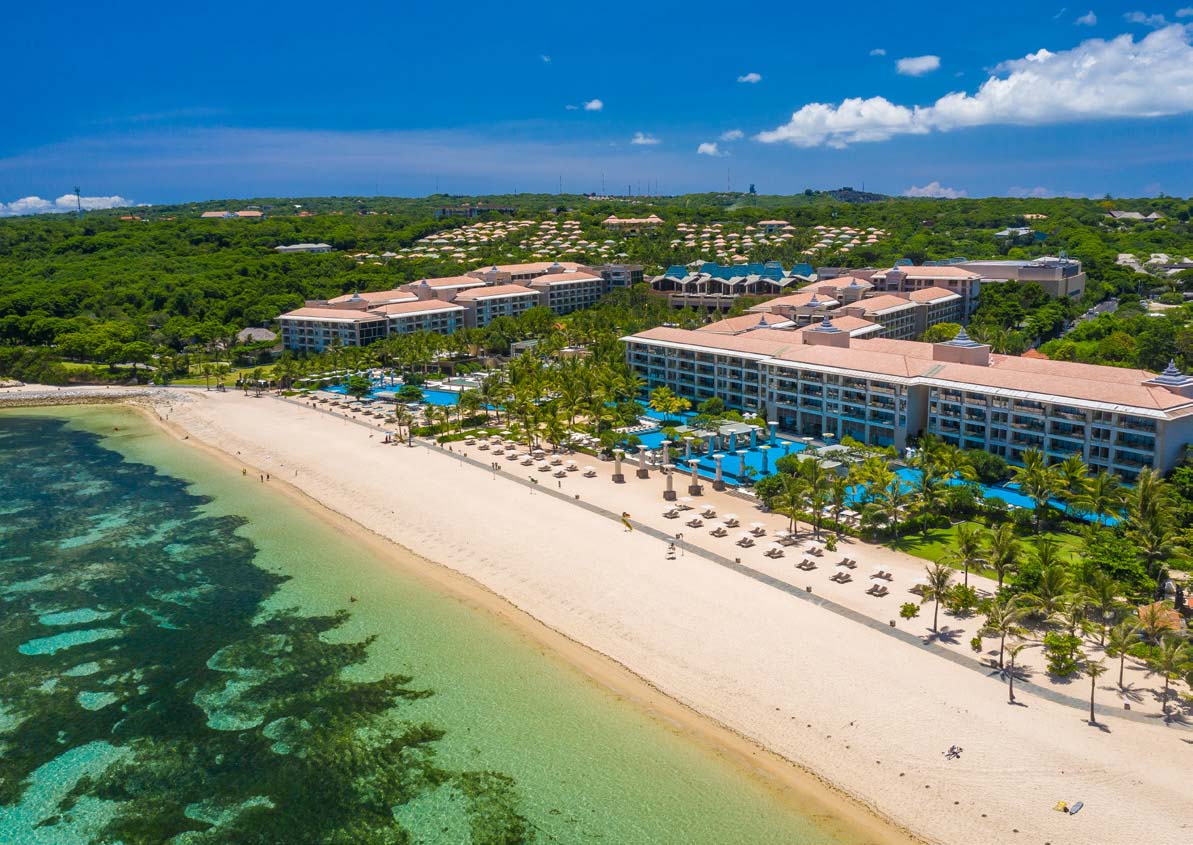 Three years of meticulous planning by IFEAT's Bali Conference Committee, chaired by Ravi Sanganeria and Stephen Pisano, assisted by the Local Organising Committee (LOC) and IFEAT Secretariat, led to one of IFEAT's most successful conferences. It was held at the Mulia Beach Resort Hotel in Nusa Dua, Bali, from 29th September to October 3rd, 2019. The Mulia is one of the world's top beach resorts and the conference attracted a record 1,468 delegates and 77 accompanying persons from 67 countries. Indonesia plays a key role in supplying ingredients to the F&F industry and it was the shipment in 1976 of adulterated Indonesian essential oils that led to the formation of IFEAT the following year. Nevertheless, despite IFEAT's 42 years of existence, this was its first conference in Indonesia; an earlier effort to organise one in 1998 was cancelled at short notice because of the Asian financial crisis.
The Mulia Resort's extensive facilities were outstanding in catering for IFEAT's ever-expanding activities. The large lecture hall was an excellent location for the four mornings of lectures, the IFEAT AGM and Business Session, the afternoon legislative, regulatory and scientific sessions, as well as two round tables on citrus and patchouli. The Grand Ballroom hosted 30 companies exhibiting over the four days. There were ample meeting places for networking, such a vital component of IFEAT conferences.
There were 26 suites in which individual companies could host meetings with existing and potential customers and suppliers as well as two seminar rooms for the flavour and fragrance workshops. The several restaurants and range of cuisines available – Chinese, Indian, Indonesian, Japanese and Western – were equally impressive. The Mulia Resort even had a small and beautiful Balinese Hindu Temple near the beach, to host the Executive Committee's conference blessing ceremony. This took place just prior to the Welcome Reception on Sunday evening at the beachside Unity Gardens. Certainly, the gods were on our side throughout the Conference week! On Monday the Mulia's large ZJs nightclub proved an excellent venue for Van Aroma's party. Finally, there was a large number of capable, efficient and welcoming Mulia staff, who were always on hand with constant smiles to assist.
The creation of beauty seems to form part of everyday life in Bali. The Balinese are very artistic people, and this was particularly apparent in the entertainment that was provided at the Welcome Reception, the IFEAT Dinner and the Closing Dinner. On each occasion, several leading Balinese groups, and occasionally international groups, performed a wide range of music and songs blending Indonesian and western music, as well as superb traditional and modern dance routines. The colourful and supremely graceful dance routines were a joy to watch and often told epic stories. At the Welcome Reception, one dance was about the beautiful colours and shapes of the frangipani flower. Another classical Balinese dance was accompanied by a gamelan orchestra, with traditional Indonesian instruments. On occasion, the gamelan playing had a hypnotic and haunting effect – a wonderful start to the Conference for the almost 1,000 participating in the Welcome Reception. The IFEAT Annual Dinner held outside on Tuesday evening at the lovely Taman Bhagawan saw another fascinating display of Balinese and other Indonesian music and dance. This included the playing of the rindik, a traditional Balinese bamboo musical instrument, as well as Balawan, one of the fastest playing guitarists in Indonesia, playing his eight-string double neck guitar. Perhaps the most amazing event involved a stunning variety of fire dancing activities involving juggling, baton twirling, fire eating and body burning. At the Closing Dinner on Thursday evening there were a further six leading dancing and musical acts entertaining the delegates throughout the evening.
The Conference programme was opened on Monday morning by the joint chairs Ravi Sanganeria and Stephen Pisano. They explained that the theme was Naturals in Asia, and that the conference was different and more extensive than in previous years. During the four morning speaker sessions there were 13 presentations, focusing on the essential oils and F&F markets in Asia. Holding lectures during the two-hour morning sessions was popular and attendance figures improved. In the afternoons there was a regulatory/legislative session, a scientific forum, in which new technical developments were presented and discussed; and two round table discussions on citrus and patchouli. In addition, there was an extensive trade exhibition each day, the usual networking areas and two fragrance and flavour workshops.
The opening presentation was given by Ravi Sanganeria who set the scene for the Conference. His wideranging lecture on Naturals in Indonesia – vital raw materials facing many challenges reviewed key trends in Indonesia essential oil production and trade. The accompanying table illustrates estimated annual production of some major oils. He also analysed some of the micro and macro challenges facing the sector, dominated by smallholders, many of whom face severe sustainability issues. These include competition from alternative crops affecting land and labour availability, insufficient financial incentives, absence of suitable market systems and institutions; all encouraging a lack of long-term commitment. Macro challenges include climatic variations and environmental challenges (e.g. global warming, tsunamis, active volcanoes, soil erosion); political and economic issues (e.g. currency fluctuations, corruption); an expanding domestic F&F industry consuming an increasing share of production; alongside geographic, demographic and infrastructural challenges. A key component of the presentation was a review of the sustainability initiatives being undertaken by several F&F companies working in Indonesia, alongside recommendations on how greater sustainability can be achieved. Despite many challenges faced by the naturals sector, the presentation ended on a positive note arguing that with encouragement and investment Indonesia will continue not only to supply competitive, good quality, sustainable natural essential oils to the world market but will also provide an expanding source of new value added innovative F&F ingredients.
The morning session saw two further presentations on Indonesia. Olivier Bernard spoke on vanilla, one of the world's most important flavouring and complex ingredients. Indonesia is the world's second largest producer of natural vanilla. The presentation was illustrated with two very informative videos. Afterwards Natalia Pandjaita, discussed in detail the range of components of Indonesian citronella. All the conference speakers' presentations will be available to members on the IFEAT website.
On Tuesday there were two further presentations. Petrus Arifin, who has been involved in Indonesian essential oil trading for almost four decades, gave the 2019 IFEAT Medal Lecture on: Scents of patchouli: a journey in time. He discussed geographical and political factors and provided personal perspectives and anecdotes on the ups and downs of Indonesian patchouli oil production during his lifetime. This included the continual eastward shift of growing regions from Sumatra to Java to Sulawesi. Indonesia dominates global patchouli oil production and was the theme of Wednesday's round table discussion (see below).
The final morning lecture was an entertaining and informative presentation by Frank Mara: A personal view of essential oils: inception, distribution & validation. This was a historical tour of the discovery and practice of using essential oils in personal care, well-being and flavours from their early use through to the present day, specifically focusing on the three distinct pillars cited in the title.
Wednesday morning lectures were on diverse aspects of Asian essential oils. Nikky Tran's Vietnam essential oil industry with respect to sustainable reforestation and exploitation discussed two major Vietnamese oils (cassia and basil) and six minor oils. A resident of Japan, Geoffrey Henrotte spoke on Authentic essential oils from Japan in the global market concentrating mainly on hinoki oil. Prabodh Satyal presented on Bioactivities and chemical composition of Himalayan medicinal and aromatic plants from Nepal discussing the characteristics of ten Nepalese aromatic plants. The final morning lecture was by Zieger Lin Zhigang who traced key developments in China's aroma chemicals sector over the past two decades – The status and outlook of China's aroma chemicals.
 On the final day there were four presentations on Australian essential oils, two on sandalwood:
– Emerging and novel clinical aromatherapy and biological potential of thirteen Australasian essential oils by Dorene Petersen.
– The Australian essential oil industry: history and emerging trends by Ashley Dowell.
– Australia's plantation Santalum album: forging a new future for an ancient aromatic by Andrew Brown.
– The union of traditional Indigenous custodians with new age plantation methods: from Australia's Gibson Desert to the world by Ron Mulder.
A key feature of every IFEAT Conference is the IFEAT AGM and Business Session, which took place on the Tuesday morning. The format was similar to previous years: the 2018 Report and Accounts were approved; the retiring Executive Committee (EC) chair Antonella Corleone reviewed the previous year's activities; new EC members were elected, and Hussein Fakhry was announced as the new EC chair. Presentations were made on the next IFEAT Conference to take place at the Inter-Continental Hotel in Berlin, Germany from 11th – 15th October 2020 with the theme of Trade, Tradition and Modern Spirit; and the IFEAT Study Tour in India from 12th – 21st June 2020. IFEAT's President, Alastair Hitchen, also made a short presentation on the development and growth of IFEAT over the past four decades. During the session, there were reports on the ICATS and Reading perfumery and flavour courses supported by IFEAT, and the presentation of IFEAT Best Student Medals to Harlem Sobrino Paredes (ICATS) and Lucy Turner (Reading).
A Bali Conference first was the Trade Exhibition, for the first time taking place over four days. Some 30 companies from a range of countries participated, including two from the Ultra Group – Golden Grove Naturals (GGN) from Australia and Van Aroma from Indonesia. Everyone was very impressed with the design and interactive content of these booths. In particular, the Van Aroma and GGN booths each contained eighteen hand blown glass sniffing ports facilitating the smelling of the wide range of Van Aroma and GGN produced naturals.In all, there were 26 oils each from Van Aroma and GGN, making a total of 52 oils that could be experienced by over 1,000 delegates who passed through the booths. In addition, delegates could taste some interesting beverage flavours made from various Indonesian spice and coffee botanicals as well as see some interesting product applications, including cocoa butter CO2 for lip balm and citrefort for making mosquito repellent. Certainly, the trade exhibition proved to be an excellent opportunity for companies to meet both current business contacts and customers and make new ones.
On Monday evening Van Aroma hosted a superb party at ZJ's night club bar and lounge in the Mulia Resort. Some 250 guests attended and enjoyed some excellent food, music and dancing. Sandeep Tekriwal, Van Aroma's CEO and a key member of the LOC, gave a short company history from its foundation in 2006 and introduced founding members and their families. During the Conference, the Ultra Group also celebrated its 90th anniversary. The Ultra Autumn 2019 Market Report, prepared to coincide with the Bali Conference, contained a detailed Group history from 1929.
The afternoons saw several sessions. The first was on Regulatory & Legislative Developments made up of six presentations by leading industry figures including three industry associations' heads. Jens-Achim Protzen of IFEAT gave an introductory lecture on The regulatory impact on an essential oil on its way through the supply and value chain. This traced the numerous regulations that essential oils face as they move from production to their incorporation into final products. Stephanie Paquin-Jaloux, an expert on compliance and biodiversity based in Indonesia, spoke on The Nagoya Protocol and ABS (Access and Benefit Sharing) regulations relevance for the F&F industry. She was followed by Jim Romine on How RIFM will conduct the safety assessment of naturals (NCS). Sven V. Ballschmiede of IOFI spoke on the Increasing regulatory complexity and its trade implications with some discussion of the imposition of unilateral Chinese and US tariffs. The butterfly effect by Eric Angelini, discussed the impact of various EU and other regulations. Finally, Martina Bianchini discussed the findings of a recent study on The value of fragrance – a socio-economic contribution study for the global fragrance industry. A panel discussion and Q/A session followed.
Two Round Table discussions were held on Wednesday afternoon. The Citrus Round Table theme was Oversupply to shortages – an endless cycle? which saw some 55 delegates discussing a wide-range of key issues affecting the sector. The Patchouli Round Table titled: A rough history, a lot of progress: are we on the safe side for good? saw 30 people from 11 countries discuss issues surrounding patchouli production, processing and sustainability. The session was moderated by Dominique Roques and Ravi Sanganeria.
A second successful Scientific Forum was held on the Thursday afternoon. Six speakers covering a diverse range of topics, and a large audience, shared their ideas about traditional and modern technologies that support the essential oil industry. The topics were: David Hackleman: Theory and practice of solvent free microwave essential oil extraction Andrea Frances: Analysis of the hydrodiffusion process compared to traditional steam distillation including a comparative analysis of essential oils obtained through both processes Casey Lyon: Understanding Boswellia & Commiphora, from source to essentials Lakshmy Kaliyarmattom Ravindran: Essential oils: shelf life enhancement and prevention of oxidation Hubert Marceau: The Explorer: a small scale still for every occasion Rick Boucard: Distillers United: an online forum for essential oil producers.
The regular and popular Flavour and Fragrance Workshops continued this year led by John Wright and Marianne Martin respectively. Instead of the usual one-day session, each had two half days.
The final Conference event was the Closing Banquet, held on a cliff location with magnificent gardens and stunning views of the sunset over the bay. Alongside the superb entertainment, delegates saw the presentation of the IFEAT Founder's Award to Ramesh Vaze from India. The Conference Chairs, Ravi Sanganeria and Stephen Pisano, besides thanking the many Conference sponsors, invited on stage all those who helped to make the conference such a success; these included the Bali Conference Committee and LOC as well as the IFEAT Secretariat. Each year sees IFEAT Conferences move between continents with new companies and countries participating, a clear indication that IFEAT is going from strength to strength. Hope to see you in Berlin!