FUTURE INSIGHTS NATURAL CITRUS FLAVOURS
October 27, 2022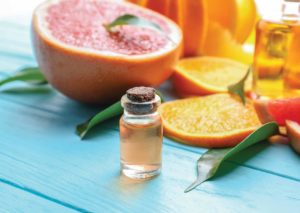 Citrus oils, which include orange, lemon, lime, grapefruit, mandarin, tangerine, bergamot, and yuzu, are the largest group of essential oils used in the flavour and fragrance industry. In recent years citrus flavours have continued to gain popularity and are now recognised as a food additive to extend the shelf life of food products. Under Food and Drug Administration (FDA) regulations, some prohibited food ingredients such as carrageenan, phosphates & hydrocolloids can be substituted with citrus flavourings.
Citrus flavour market worth is expected to total US$ 2,977.1 million in 2021, as per Future Market Insights (FMI). The survey also shows the demand of citrus flavours will exceed US$ 4,931.5 million by 2031, growing at a CAGR of 5.2 % for 2021-2031. The Asian market is also on the rise.
The global natural flavour market is segmented into North America, Europe, Asia Pacific, South America, and the Middle East & Africa. In 2018 Europe accounted for the major market share owing to the high consumption of ready-to-drink (RTD) fruit beverages containing natural ingredients such as berries and citrus.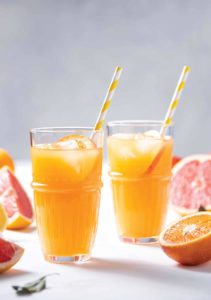 Citrus flavourings are high in demand for bakery, confectionery, beverages, nutraceutical, shisha and many more. They impart refreshing, tangy and juicy notes with partial aqua profiles. The trend of consuming naturally flavoured cookies, ice creams, and pastries has gained momentum in recent years. The preparation of fruit cakes has also changed as natural flavours of various fruits are readily available across the market. Unique citrus flavours are linked to providing freshness to the younger generation which is looking beyond the traditional lemon, lime and orange. "Different combinations of Navel orange, Moro blood orange, bergamot, Meyer lemon, Pomelo, red grapefruit, satsuma and calamondin are some of the examples for beverages as they have a juicy and balanced sweet and tart taste which is suitable for beverages and tonic water".
As per the FMI report, citrus flavour blends such as lemon with the combination of ginseng is blooming in soft drinks throughout the European market due to its therapeutic properties. Another combination of citrus flavour with mint is a unique choice for candies and confectionery while citrus-infused beer with lemon, lime and zesty grapefruit is very common in alcoholic beverages.
Similarly, Mintel's March 2020 report titled "Tending flavours and ingredients in non-alcoholic beverages US" confirms that citrus is the top preferred flavour. This report also states that although conventional citrus flavours such as orange and lemon trended down from 2018 to 2019, citrus is still the No.1 preferred flavour for non-alcoholic beverages around the world.
Natural flavourings refer to essential oils, oleoresins, essence or extractive, protein hydrolysate, distillate, or any product which contains the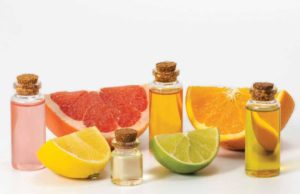 flavouring constituents derived from fruits, vegetables, edible yeast, herb, root, leaf or similar plant material, meat, seafood, poultry, eggs, dairy products, or other fermented foods. Natural flavours are typically used in food and beverages in order to enhance the taste and quality of the products.
However, the high costs associated with natural flavour raw materials are restraining the adoption of natural flavours. The seasonal availability of natural sources which is a crucial factor for the extraction of natural flavours is also one of the factors limiting market growth. In citrus flavours some polar components categorised under esters, aldehydes, oxides and alcohols contribute a major role to their aroma. Octanoic and decanoic acids contribute to a complex interaction of components towards natural citrus odour. Some citrus oils can be used in making natural citrus flavours such as yuzu, finger lime, gondhoraj, blood orange, kumquat, kaffir lime, mandarin for their appealing pulp and fragrant aroma especially for beverages. For instance, blood orange is a rising star citrus flavour in the food and beverage industry due to its anti-inflammatory properties.
Beverage application will account for more than 55% of the market value, growing at CAGR of 7.2% over the forecast period. Citrus flavours are frequently perceived favourably by consumers and can impart a nutrient-rich profile in products such as electrolyte drinks, soft drinks, infused tea, and more.
According to FMI, approximately 33% of all new flavoured beverages established globally in the last three years featured citrus flavours. The powder form of citrus accounted for the maximum share of nearly 58% in 2021 and is also expected to witness a lucrative growth rate of 5.6 % CAGR over the forecast period. Manufacturers operating in the global citrus flavour market are focusing on building awareness about powdered beverages, driving growth in the global market.
Changes in citrus peel oil constituents from such chemical reactions as oxidation have long been known to alter flavour in citrus oil and juice, especially during storage.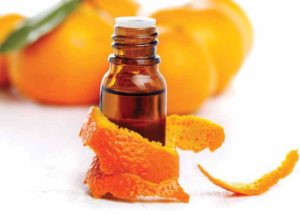 Furthermore, some challenges are associated with citrus and natural flavours such as solubility, stability, and strength during formulation. "Simple, natural and no preservative beverage formulations can undergo some challenges when working with lemon concentrates and flavours", Angelich explains. Natural lemon and other citrus flavour ingredients and components can oxidise during a beverage's shelf life and result in undesirable off notes and soapy tastes. Product formulators need to carefully balance what processing conditions, what flavour materials, preservation means, and shelf-life expectations they can balance and deploy to create fresh and natural-testing lemon and citrus beverages.
Compound terpenes, specifically citral, are primary flavour and aroma constituents in lemon oil and lemon flavour, as are the major chemical terpenoid components, including D-limonene, gamma terpinene, alpha and beta pinenes. However, Conch-Meyer notes, "the high level of unsaturated fats and oxygen-functionalised compounds in citrus oil, specifically, make terpenoids highly susceptible to oxidation".
Changes in citrus peel oil constituents from such chemical reactions as oxidation have long been known to alter flavour in citrus oil and juice, especially during storage. Oxidation is not only influenced by the presence of oxygen but also by temperature, UV radiation and trace metals that can act as a catalyst.
Try to replace the air in the container with nitrogen or fill the container to the brim without any air gap, tightly cap it, seal it, if possible, store it in the refrigerator. These procedures prolong the shelf life of citrus peel essential oil. Make sure no traces of moisture remain in the essential oil before storing it.
Day by day, millions of consumers are moving towards citrus beverages due to their nutritional and therapeutic properties along with their commercial aspects. There is no doubt that the diversity and quantities of citrus fruits available throughout the world in such a wide variety of forms and flavours will ensure the continued growth in their demand and end-uses.