Bulgarian Study Tour 2017
July 25, 2017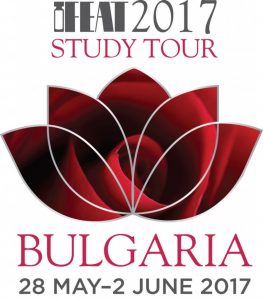 Although this was IFEAT's shortest study tour to date – because of the cancellation of the Turkish section of the tour – the tour was a dream come true for me. Rose oil is my favourite oil, and to visit Bulgaria's Valley of Roses at the peak of the harvest and in perfect weather conditions was a great privilege and a thoroughly enjoyable experience.
The 45 delegates on the tour from 22 countries were warmly welcomed by the Bulgarian sponsoring companies who explained in great detail the growing, harvesting and distillation process of the world's most expensive oil. Last year Bulgaria produced two tonnes of rose oil, but this was expected to be higher this year because of increased flower production, although yields had not been as good. The frost in April had delayed harvesting but during our visit large quantities of flowers were available and labour recruitment was causing some concern. Besides being the world's largest producer of rose oil as well as other rose related products, Bulgaria is now the world's largest producer of lavender oil, with production growing quickly in recent years, and 2016 output was estimated at 280 tonnes. While we were visiting Bulgaria prior to the start of the lavender harvest, growers were optimistic about production levels.
The Tour started on Sunday 28 May at the Grand Hotel in Sofia, and despite torrential rain in the preceding days, the weather improved considerably on our arrival. The Local Organising Committee and BalkaNova the tour agent warmly welcomed us. The airport pick-up and the hotel check-in process were very smooth and quick. Some delegates then went on a guided walk around the beautiful city of Sofia, with its many churches of all denominations and ancient monuments dating from pre-Roman times. Later that afternoon after welcome drinks we toured other parts of Sofia in a traditional tram. This was followed by an excellent welcome dinner and glorious sunset in a penthouse restaurant overlooking the whole of Sofia
The following morning we set off for Plodiv where there was a series of five lectures on various aspects of the Bulgarian essential oils and rose growing sector. Then after an excellent meal in the old town we visited Rosa Impex, a major producer and exporter of a wide range of cosmetics products. This was followed by a walking tour around the oid town and Roman amphitheatre. In the evening we were entertained by a Bulgarian male voice choir.
On Tuesday we visited the rose fields of Mr. Matyo Palazov, an independent farmer supplying Galen-N. We were met in the fields by beautiful girls and boys dressed in traditional costumes, who welcomed us with Bulgarian music and dancing. This set the tone for the entire tour. Then followed discussions of rose production and harvesting with the farmers.
We then visited the production facility of Galen-N and Bul Phyto Oils JSC, which was very impressive. The company has its own crop fields, with more than 200 hectares of roses, lavender, melissa and chamomile. The company had taken over one of the pre-1990 state-owned rose distilling companies and had been modernising it. This included the construction of new production facilities and equipment – a new distillery for organic products, and GMP certified production facility and brand new modern laboratory. During the visit, Morntchil Mihov, an IFEAT Local Organising Committee member, provided a detailed guide to the company's growing, distillation, concrete and absolute extraction operations, as well as the new pharmaceutical ingredient production facilities. Prior to the excellent buffet lunch on the company's premises there was an informative lecture on dry rose flower extract.
After lunch we visited Rosa Eterna's rose and lavender essential oil processing facilities. Its modern distillery had been built using grants from the European Community, with a capacity of 80-90 kg of rose oil and tons of rose water, lavender oil and lavender water. Again the openness in explaining the distilling operations was welcomed by the participants.
Prior to dinner some delegates visited the Thracian tombs at Kazanlak, a UNESCO World Heritage site. The evening dinner was hosted by Berje and included another cultural introduction to Bulgaria's music and dancing. The ambience, food and entertainment were very good.
Wednesday began with a very early morning start to visit the rose field and picking operations of Enio Bonchev Production Ltd. a heritage company with an inspiring history and facilities to be proud of. On our arrival at the fields we climbed to the highest point and had a superb view over the Rose Valley to the mountains in the distance. Tour participants were shown the new high tech software facilities, which monitored the rose pickers output. The harvesting is all done by hand predominantly by ethnic minorities particularly gypsies. Participants then took part in a rose picking competition and realised that rose picking is not easy! We then visited Enio Bonchev's modern distillery operations, part of which is devoted to organic rose and lavender production. Delegates saw rose oil being very carefully decanted from the still, not surprising when the current price was approximately €12,000 per kg!
Our friend Filip Lissicharov, the Chair of the Local Organising Committee who had accompanied us throughout the tour, talked us through every detail of rose production, harvesting and processing. This included a detailed and very interesting description of the uncommon cohobation technique, which is used to distil rose oil. He was very knowledgeable and no subject was off limits. So in addition to the previous mentioned topics we discussed issues regarding quality and adulteration, price setting, wage rates, sustainability, environmental and government issues. Lunch at Enio Bonchev was in their lovely gardens, next door to their own impressive family museum and old distillation equipment. During the rose season the company organises tourist visits to its facilities
In the afternoon we visited Bulattars where again delegates were given an in-depth tour of the company's new and old distillation facilities, as well as their rose museum. It was good to see both the small and big distillery. The processes were similar as was the quality, but the investment in infrastructure and holding capacity varied. Besides rose and lavender the company also produces several other essential oils
In the evening we were entertained by the lady Mayor of Kazanlak at the Museum of Roses which has a rich collection of 15,000 objects, pictures and documents that reveal the long history of Bulgarian rose industry. We had the privilege of a private viewing of these displays. One of the biggest attractions is a rose oil vessel, which was used for the last time in 1947. However, this remarkable object still had rose fragrance coming out some 70 years on!
The final day saw visits to Vigalex's rose and lavender fields and its modern processing and extraction facilities. On the journey to the company, our dear friend Andrey Mitov, a member of the Local Organising Committee and Sales Manager of Vigalex Ltd., who had accompanied us throughout the tour, gave us many insights into Bulgarian lavender production and processing. Vigalex Ltd is a leading producer and exporter of Bulgarian natural aromatic products, particular lavender, and the company's owners gave us a detailed tour of their compact but very well maintained operations. After a traditional meal in a lovely local restaurant the delegates travelled back to Sofia, where they visited the plant of Panteley Toshev Ltd. an innovative and technological leader in the production of beverage, food and natural flavour ingredients.
Bulgaria is a county of roses and cherries and due to bumper crop this year there was a shortfall of pickers, due to which quite a lot of flower were left unplucked. 
Also some cherry orchards were not harvested due to a shortage of labour.
Going forward this is a big challenge for the industry.
Throughout the tour delegates received generous gifts from the companies they visited and enjoyed some excellent local cuisine and entertainment. From start to end we were blessed with good weather, a bumper crop, and excellent organisation. Moreover, delegates shared their knowledge and experience – and the bus lectures, in which delegates spoke about their countries, products and experiences continued.
For me, the study tour was a wonderful and unforgettable experience.
Bhuvana Nageshwaran