ATELIER ULTRA INSPIRED CREATION
June 7, 2023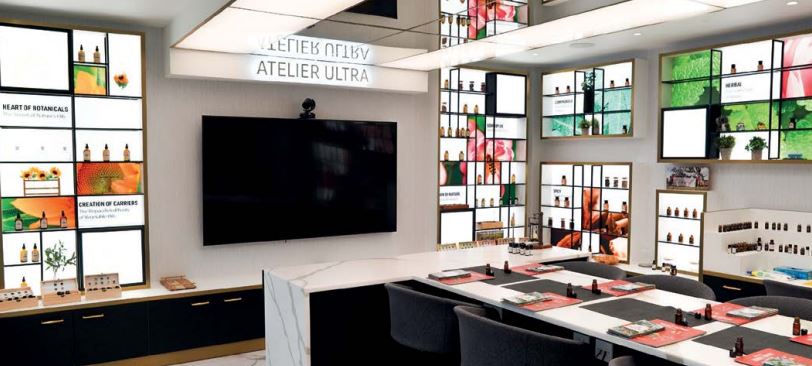 Atelier Ultra is a unique space that lets ideas breathe, encourages creativity, and teaches the nuances of essential oils and natural ingredients. The Ultra International site in Chertsey, West London is home to Atelier Ultra. A multi-functional space, Atelier Ultra entertains customers, holds meetings, workshops, and performs olfactive analysis on samples and products. Over the course of time, it has evolved into an educational gateway to history and literature. It is also a futuristic hub and possesses the ability to perform small tests and formulation development within it.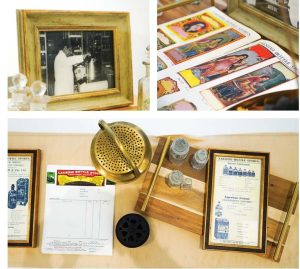 The space is a fragrance lover's paradise. It is equipped with a multimedia unit, conference table, multifunctional workbench, perfumer's organ, an interactive essential oil library, and a compelling collection of artifacts tracing Ultra's legacy and the history of essential oils. Atelier Ultra has emerged as a germinating hub and a delightful source of information for staff and visitors alike. Perfumers have revelled in its visual appeal and practical usage. And our quality control officers have found a pleasant abode to carry out operations.
A WALK DOWN MEMORY LANE
Ultra International has a rich 90-year history and legacy. This wealth of knowledge and experience is now being shared with the world via Atelier Ultra's library. This section houses original 90-year-old recipes, adverts, photographs dating back a century, and lovely antique ornate bottles line up in the cabinets here. The essential oils library also has records of all current operations with a product list from our global sites.
WHERE CREATIVITY FLOURISHES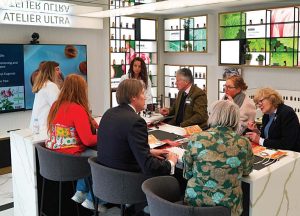 Atelier Ultra was designed as an abode that inspires and lets creativity flow. The space has sections labelled and organised by olfactive family. To provide depth and context to our global operations botanical photos and dried ingredients are mixed within the facilities. The scale of our global coverage is on show at the perfumer's compendium, which is home to 200+ product samples from 25+ countries we source and produce in. It is also wellequipped to handle regular smelling or olfactive checks on materials.
THE LEARNING WING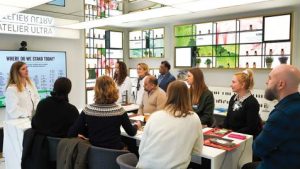 Atelier Ultra has a dedicated learning space. The large workbench and conference centre can hold 10 people for a workshop, or training activity. The space allows the exchange of ideas to develop sustainable projects, and innovative essential oil formulations. A couple of dedicated personnel help organise essential oil training workshops. Perfumer and flavourist presentations are less structured. It becomes a hub of ideas exchange. Creativity flows, as participants pick and mix essential oils from shelves to craft mesmerising fragrances.
UNIQUE CREATIONS
Atelier Ultra is the breeding ground for unique and special creations. With its extensive library and learning wing our valued customers can experience the delight of creation. From visiting plantations to tracing origin stories of enticing essential oils, Ultra Atelier is where the astonishing is born. Some of the oils we seek to cover on this voyage include: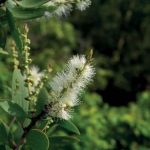 NEROLINA OIL AUSTRALIA
Derived from the leaves of the Australian plant, Melaleuca ericifolia, nerolina oil possesses a fresh, invigorating aroma. Due to its antiseptic, antiinflammatory, and soothing properties, it is a popular ingredient in aromatherapy, natural cleaning, and skincare products.
---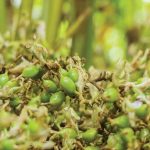 CARDAMOM CO2 INDIA
Cardamom CO2 is a high quality, pure and concentrated form of essential oil obtained from the cardamom plant. The oil is extracted using the newer and advanced method of CO2 extraction. The resulting oil obtained possesses therapeutic properties and is a popular antiseptic, antifungal and soothing agent. Cardamom CO2 oozes a strong, spicy, and sweet aroma and is a popular flavouring ingredient in food and beverages. It also has a market among perfumers and aromatherapists.
---
VETIVER OIL PONDICHERRY, INDIA
Laden with a deep earthy fragrance, vetiver oil is extracted from the magical grass, vetiver, found on the coasts of Tamil Nadu. Due to its grounding properties, vetiver under expert supervision is occasionally applied on skin for relieving stress, as well as for emotional traumas and shock. It is also popular in aromatherapy due to its abilities to relieve nervousness, insomnia, joint and muscle pain.
---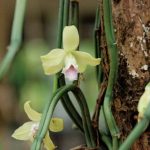 NATIVE VANILLA MEXICO
The most flavourful and aromatic of all vanilla species, native vanilla is extracted from Vanilla planifolia found in Mexico. With a rich, sweet, and creamy flavour, native vanilla is widely used by the food and beverage industry. Its enticing aroma also makes it a popular fragrance in perfumes, soaps, and various personal care products.
---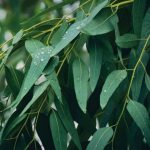 EUCALYPTUS OLIDA AUSTRALIA
This oil is extracted from the leaves of Eucalyptus olida or strawberry gum tree native to Australia. While the tree itself is prized for its fragrant wood and ornamental value, the oil has a variety of applications. It has a hint of strawberry that could add the fruity notes in a perfumer's palette. Since it is believed to possess antiseptic and anti-inflammatory properties, it is also used in the treatment of skin conditions like acne, insect bites, and wounds. It is also a popular product in aromatherapy.
---
The vision at Atelier Ultra is to engage and prosper as a community. Anyone in the Ultra family is welcome to use the space and expand their knowledge about essential oils. Employees as well as outsiders can undergo olfactive training and be enchanted by the product range we have to offer. Our aim is to aid comprehension about the workings in the essential oils space, and growth in the industry.
Atelier Ultra is a germinating pod for creativity. It accomplishes the task by providing a haven to meet, create, educate, and share the passion for all things natural. Historical records and artifacts, latest technology, brightest minds, new research, all come together at Atelier Ultra to promote a sustainable future for the essential oils industry.