ATELIER ULTRA – Where creativity germinates, breathes & prospers
September 8, 2022
We brought an idea into existence with Atelier Ultra, it is a unique offering by us in the essential oils space. It is a place where ideas breathe, creativity is encouraged, and the nuances of essential oils are taught, and their limitlessness is tested. One can borrow from historical connects, discuss with colleagues, create something new, and present it to the world. Atelier Ultra is the niche where history, quality control, creation, presentation, archives, conferences and process merge.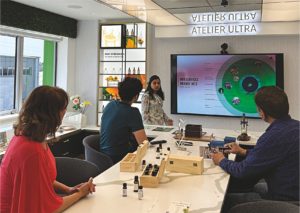 The Ultra International site in Chertsey, London is home to Atelier Ultra. The need was to provide a multifunctional space for small and large clientele alike. It was established to entertain customers, hold meetings, and perform olfactive analysis on samples and products. Over the course of time, it has evolved into an educational gateway to history and literature. It is also a futuristic hub and possesses the ability to perform small tests and formulation development within it.
The space is a fragrance lover's paradise. It is equipped with a multimedia unit, conference table, multifunctional workbench, perfumer's organ, an interactive essential oil library, and a compelling collection of artefacts tracing Ultra's story and the history of essential oils. Atelier Ultra has emerged as a multi-functional apothecary, and become a source of delight for staff and visitors alike. Perfumers have revelled in its visual appeal and practical usage. As a bonus, our quality control officers have found a pleasant abode to carry out operations. 
A walk down memory lane
Ultra International has a rich history and legacy. This wealth of knowledge and experience is now being shared with the world via Atelier Ultra's library. This section houses original 90-year-old recipes using ingredients like rose and jasmine. Original adverts and photographs dating back a century, and lovely antique ornate bottles line up in the cabinets here.
The essential oil library also has records of all current operations with a product list from our global sites. For research and knowledge purposes, the library also has documentation, draft formulations, and scientific articles. It also preserves photos and mementos from sites, with a special section dedicated to the Golden Grove Natural's koala reserve project.
"Atelier Ultra was designed as an abode that inspires and lets creativity flow. The idea was to aid the process of next generation aroma development."
Where creativity flourishes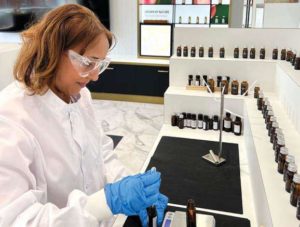 Atelier Ultra was designed as an abode that inspires and lets creativity flow. The idea was to aid the process of next generation aroma development. There are sections labelled and organised by olfactive family. To provide depth and context to our global operations, botanical photos and dried ingredients are mixed within the apothecary. The scale of our global coverage is on show at the perfumer's compendium, which is home to 200+ product samples from 25+ countries we source and produce in. The fragrance creation section is well-equipped and fully stocked with scales, beakers, and pipettes. However, we are not all about the work alone. Atelier Ultra is a space for the ultimate essential oils joy. Our 'guess the oil' section does the job. Guests can test their nose ability by smelling fragrances. On a regular basis the space is utilised for team meetings, and flavourist presentations for visitors. It is also well-equipped to handle regular smelling or olfactive checks on materials. Complying with all international and internal standards of operations, the perfumer's organ is designed to cross check essential oil batches. The workspace also allows creative blending. High air circulation prevents contamination of odours.
The learning wing
Atelier Ultra has a dedicated learning area. The large workbench and conference centre can hold 10 people for a workshop, or training activity. It allows for the exchange of ideas to develop sustainable projects and innovative essential oil formulations. Students are provided with equipment to craft their own, unique formulations.
A couple of dedicated personnel help organise essential oil training workshops. The training sessions are designed with a focus on olfactive, safety, and allergen information on various essential oils. As part of the training, we discuss current fragrance trends, and highlight Ultra's efforts towards the upcycled range and biodegradable options. In order to meet allergen requirements and IFRA, the focus is on dosage levels. A brief introduction to olfactive families, bases and miscibility are all part of the training exercise. We work with participants to augment their knowledge. Sharing of ideas is encouraged; wherever required, we advise and physically solve problems. While the curriculum is currently focused on cosmetic manufacturers, we are in the process of adding flavour presentations. We tie-up with organisations and also offer the space to visitors for these training sessions.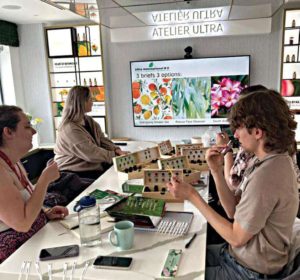 Perfumer and flavourist presentations are less structured. It becomes a hub for trading ideas. Inventiveness flows, as participants pick and mix essential oils from shelves to craft mesmerising fragrances. We are highly organised with respect to shelf life, and trace products with a record of the full digital inventory of the materials.
The vision at Atelier Ultra is to engage and prosper as a community. Going forward, more workshops and training sessions will be organised. Anyone in the Ultra family is welcome to use the space and expand their knowledge on essential oils. Employees from other departments can undergo smell training, and further engage in the company's product range. These trainings will not be restricted to the organisation's workforce. We wish to invite outsiders without access to a perfumer's compendium, and aid their comprehension and growth in the industry.
Atelier Ultra is a germinating pod for innovation. It accomplishes the task by providing a haven to meet, create, educate, and share the passion for all things natural. Historical records and artefacts, latest technology, brightest minds, new research, all come together at Atelier Ultra to promote a sustainable future for the essential oils industry.