Hinoki oil
February 19, 2018
Hinoki is not just an essential oil  

Its a piece  of history
The Hinoki wood (Chamaecyparis obtuse) is a species of cypress, native to central Japan. Since time immemorial, its association with the sacred has merited a sustaining role in the life and culture of Japanese people. Hinoki has found expression in spirituality and building construction,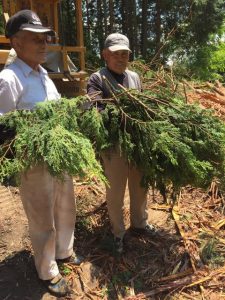 especially for palaces and shrines.  
Hinoki oil is revered in aromatherapy and the perfume industry for its lemony, earthy, and mystic fragrance. A slow-growing tall tree, it yields three essential oils. The freshest is from the leaves of the tree; another oil from the branch, both oils contain spicy overtones; and finally, the oil extracted from the timber, which exudes a woody scent.
Hinoki abounds in a-pinene, limonene, hibaene, and phytocides. In aromatherapy, it is evocative of a walk in a woodland glade, akin to the famed Japanese Forest Bathing.  A drop of Hinoki is a wonderful way to relieve stress, lower blood pressure, and heart rate.
Hinoki oil has antifungal, antibacterial, and immunity boosting properties as well. The physiological and psychological benefits of this rare essence simply cannot be undermined.